Malaysia v Kyrgyz Republic
How Malaysia could line-up against Kyrgyzstan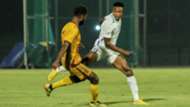 There will be many factors for Cheng Hoe to consider when making his selection for the international friendly against Kyrgyzstan on Tuesday at Hang Jebat Stadium. With this being the second last friendly available to the team before the start of the 2018 AFF Suzuki Cup, the question will be whether to continue experimentation or start building up the preferred first XI.
Besides that there's the other considerations as well in ensuring the fitness of those no longer involve in the Malaysia Cup and those who are. Nik Akif Syahiran and Akhyar Rashid will be flying off to Indonesia to compete in the AFF U-19 Championship and as such, might share the match between them against Kyrgyzstan.
Then there's the learning from the Sri Lanka game. Zaquan Adha was ineffective in the main striker role and was a periphery figure throughout that match but options to replace the team captain are not plenty for Cheng Hoe.
One player who could replace Zaquan is Shahrel Fikri but the Perak-born forward is unlikely to be available for the match in Melaka having picked up an injury in Colombo that forced him to be taken off at half time.
Norshahrul Idlan Talaha is the only viable option but the Pahang player would not relish being marked constantly by two big central defenders nor would it be the best position for him to excel in. Mohamadou Sumareh earned plaudits for his 45 minutes cameo against Sri Lanka and should be getting his first ever start for Malaysia as Cheng Hoe continues to assess his suitability to the team.
The 24-year-old put in an impressive shift on the right hand side, working in tandem with his club colleague Matthew Davies in his international debut last Friday. Over on the other flank, Syazwan Zainon did not fare as well as Sumareh and could be staring at a place on the bench with Akhyar coming in for him.
In midfield, there's a possible return of Akram Mahinan who missed the trip to Sri Lanka but has been seen returning back to training with the squad in recent days. Else Syamer Kutty Abba and Kenny Pallraj could well continue their partnership from the previous game, after Mahali Jasuli showed that his position may not be in central midfield.
The defence saw the combination of Irfan Zakaria and Adam Nor Azlin, a regular partnership at age-group level, albeit in a very different defensive structure than they ones they have got accustomed to, playing alongside each other.
Together with Dominic Tan, they looked a formidable backline but playing in a 2-centre back system, they looked shaky and unsure of their positioning. Perak's Shahrul Saad is the obvious experience figure that could slot in for one of the two in the centre of defence with Cheng Hoe perhaps also looking to make one or two more changes in backline.
Amirul Azhan stands a chance to make his first start since the North Korea match last year as Davies picked up an injury in the Sri Lanka match while Syazwan Andik's set piece prowess could also see him taking over Fazly Mazlan's place in the starting line-up.
The goalkeeping department is perhaps the one that gives Cheng Hoe the least headache. There's not much to separate amongst Khairul Fahmi, Hafizul Hakim and Haziq Nadzli. As Khairul and Hafizul have both featured in past games, it could be the time for Haziq to show what he can do.
Malaysia will not be expected to topple Kyrgyzstan given the difference in stature what with the opponent preparing for the Asian Cup assault as compared to the Malaysia's more regional aspirations. But having underperformed despite the 1-4 win over Sri Lanka, Cheng Hoe will be under pressure to show to the watching fans that his side are moving in the right direction.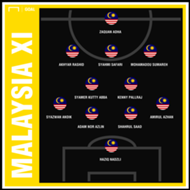 Follow Goal Malaysia on Instagram
 

 

A post shared by Goal Malaysia (@goal_malaysia) on Oct 15, 2018 at 2:13pm PDT