Ghana
How dear is Michael Essien's memory to Ghanaians?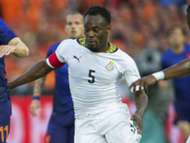 Comment by Prince Narkortu Teye (@TeyePrince)
Having an awkward moment in front of the TV is indeed one of 'those moments'! That time as a little kid when watching a movie with the family, your gaze staunchly fixed on the screen, your every sense literally hijacked by the story and then an adult scene suddenly popped up. You loved it, but you probably had to switch your gaze. Should I look away? Is daddy looking my way…? The questions unforgivably attacked your mind in battalions.
That was just how it felt watching former Ghana international Michael Essien on TV over the weekend. It delighted, but it hurt. As painful as it was sweet. Saturday wasn't the first, nor will it be the last.  That is just how it feels each time he pops up on local TV. And that pretty much sums up his Ghanaian story. A mystery of gem!
"I don't know, I'm not very much important to Ghanaians now," Essien said on GH One TV when asked for a concluding message to an interview. The female presenter queried in surprise: "Is that what you think?" "I don't know," he replied, "I'm not playing for the Black Stars anymore."
"But you're a celebrated player. You know that?" Serwaa Amihere asked. "I don't know," Essien responded. "I'm telling you how much Ghanaians love you. So say something to them," Serwaa insisted.
"Thank you for telling me," Essien replied. "It's great they still love me. I've done much for the country. They should appreciate what I've done. It's good to hear that from you. I'm very honoured and happy to hear that. I [will say] a big thank you."
From someone who represented Ghana at the highest level, it wasn't just sad but worrying to hear such words.
Not that his ill-feeling was out of place anyway.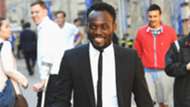 While lighting up Stamford Bridge for Chelsea, silencing Barcelona's Camp Nou and ruthlessly manhandling the great Lionel Messi at Santiago Bernabeu during an El Clasico, Essien was always seen as that guy who played for the Black Stars out of convenience.
In 2006, just when the Black Stars were beginning to announce their renaissance to the world, the midfielder claimed an injury on the eve of the Africa Cup of Nations in January, pulling out of the tournament in Egypt. While some Ghanaians suspected a 'fake', others cursed Nigel Reo-Coker for the assault. But the divided opinion soon turned to a unified pique, heavily laced with fire and venom, when the 35-year-old resumed action for Chelsea far earlier than expected. That was just the beginning.
He again made headlines when he was seen texting in the stands, rather than "focusing" on an ongoing 2010 Afcon match, having suffering a tournament-ending injury in the opener. There was a similar uproar during a pre-tournament friendly before the 2014 World Cup when he was shown with his back facing the game from the bench following his substitution. Then there was the famous Brazil 2014 debacle!
Essien may have had his patriotism questioned umpteen times but he never once lost the love of Ghanaians, even if it looks as though he did.
Just watch how Ghanaians' faces light up when talks about the midfielder's heyday in Europe take centre stage. Watch how they will not have "that nonsense" from Nigerians throwing a comparison with their legendary Mikel Obi. Watch how they rate him when tabloids put him, Claude Makelele and new boy N'Golo Kante up for a Chelsea poll. Watch how they mention him when reminiscing Ghana's qualification and participation in their first World Cup in 2006.
And, by the way, just how did Chelsea become arguably the most supported English club in Ghana?
The truth is Ghanaians love Essien profoundly, more than they accept, and apparently more than he knows. They just refuse to show it for 'good' reasons. They can't stand his sight. He's not as fortunate as Sulley Muntari, arguably the most openly loved Ghanaian footballers in recent times despite all his ills, or Stephen Appiah, whose mention evokes national pride.
Like the perfect tickle, so sweet that it makes you laugh, yet so disturbing that you want it away. Such is The Bull!