African All Stars
Hoffenheim result decisive for Lyon's Champions League progress, warns Bertrand Traore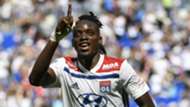 Lyon are aiming for 'the best result' when they lock horns against Hoffenheim in Tuesday's Uefa Champions League tie, according to Bertrand Traore.
The French Ligue 1 side, yet to lose a match in the competition, sit at the summit of Group F with four points from two games.
They enjoyed a fine start with a 2-1 win over Manchester City in the group opener before settling for a 2-2 draw against Shakhtar Donetsk.
Ahead of their meeting against the bottom-placed Bundesliga outfit, the Burkina Faso international warned his teammates on how the outcome of the encounter at the Rhein-Neckar-Arena could decide their fate in the competition.
"We came into this competition with this victory in City, after we had a pretty tough match against Shakhtar in a difficult context [behind closed doors], but we managed to get the draw after being led, and that has been very important to us," Traore said in a pre-match conference.
"We have not yet experienced defeat and this gives us confidence for the future. We come to Hoffenheim to get the best result possible here, and if possible the 3 points.
"This result could be decisive for the end of the competition, even if it will not put us completely safe, because it will remain three matches after."
Before this month's international break, the Kids suffered a humiliating 5-0 loss to PSG in a league game.
However, the 23-year-old who has scored four goals in 10 league matches this season admitted they are working on their mistakes after their 2-0 win over Nimes on Sunday.
"In the league, we saw the start of the season a little complicated, we first won and then we started to lose points, it happens," he continued.
"Unlike last year, it's different. We had taken a lot of points at the beginning, and after we went down, it was more difficult. It's better to start the season timidly and see these mistakes very quickly to correct them, rather than start very quickly, relax, and have trouble getting up.
"We've begun to correct the mistakes, I think. Since our defeat in Paris, on a score that did not reflect the match, we have resumed. There was the international break, with a lot of players missing, but we talked internally, watched videos, we know what we need to improve," he concluded.
document.write("");