Chelsea
'He's the best centre-half in the league' - Lampard hails Chelsea's David Luiz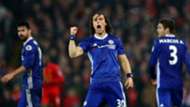 David Luiz is "probably the best centre-half in the Premier League", according to Chelsea legend Frank Lampard.
Eyebrows were raised when the Blues brought the enigmatic defender back to Stamford Bridge from Paris Saint-Germain last summer.
Conte wants more from Chelsea stars
The Brazilian was accused of over-playing and enduring lapses in concentration during a previous spell in west London.
He has, however, thrived in a 3-4-3 system under Antonio Conte and Lampard believes he has developed into one of the finest players in the English top-flight.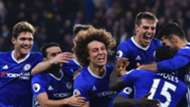 After including the Samba star in his Premier League Team of the Season so far, the Blues icon told Sky Sports: "I think David Luiz has matured. He was a very good player before - we won the Champions League with him and Gary Cahill as centre-halves in the final - but the criticism of him at that point could have been 'can he make a mistake and does he try and over-play?'
"Since he's been back, in a role in the middle of a back three, he has shown discipline and quality on the ball. His defensive stuff has been brilliant and I couldn't leave him out.
"He's probably the best centre-half in the league, for me, this season."
Eden Hazard, N'Golo Kante, Cesar Azpilicueta and Diego Costa also made the cut, but it was the selection of Luiz's centre-half partner that caused the biggest surprise.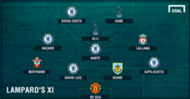 Lampard, though, believes Michael Keane, who has been linked with a move to Chelsea, is fully deserving of his place and is destined for big things in the future – be that at Burnley or elsewhere.
He added: "Why did I pick Michael Keane? I think we have to give credit to Burnley as a team and to a player who has been let go by a top team and had to go back down the ladder and prove himself.
"I've seen some games where he has been fantastic this year. He might not be in everyone's team of the year - I could have picked anyone from Chelsea's back three and didn't want to overload with Chelsea - but you have to give respect to young English players who have made a mark in a team that are defending a lot.
"He has been outstanding. If he goes on, the big clubs will come calling."