World Cup
Herve Renard proud with Morocco despite World Cup exit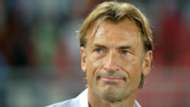 Morocco coach Herve Renard was proud and defiant with his team's display despite losing to Portugal by a solitary goal on Wednesday.
The European champions took the lead in the fourth minute when Cristiano Ronaldo charged into the box to bury his header and become Europe's top international scorer with 85 goals.
But they instantly eased off and offered little else in terms of attacking football for the rest of the match. Instead, it was Morocco, who lost their Group B opener 1-0 to Iran, who were the more aggressive side, missing half a dozen clear scoring chances and the Portuguese conceding far too much space.
Renard has however, insisted that the nation could be proud of their team but they had failed to take their chances. "I'm very proud of the performance and I am very proud of my players, I'm very proud of this country," said Renard, 49, who won the African Cup of Nations with Zambia and Ivory Coast.
"We deserved to win. We had five or six chances in the second half. What I am sure of at this moment is that the entire Moroccan people is proud of this team.
"Of course it's easier to play with a player who has one chance and he puts it away. But we are in Morocco. We have quality players. Despite the ups and downs of the game, we should have been more effective.
"Because, like in the first game, we had plenty of chances. I won't blame anyone. That's football. It's always those who know how to be present in the box, the most gifted players, who make the difference. We took a lot of risks and we didn't get our reward."
The Atlas Lions will now face Spain in their final Group match on Monday.