WTF
'He only gets paid for 90th minute headers!' - Twitter reacts to Ramos' late goal in Clasico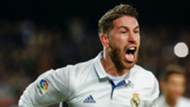 There are many things which are guaranteed in life. Death, taxes and a last-gasp equaliser from Sergio Ramos.
Aguero horror tackle sparks ugly scenes
The defender comes into his own when Real Madrid are trailing in massive games by popping up with late, heroic levellers.
Ramos has famously converted late in a UEFA Champions League final and a UEFA Super Cup final in the past for Real and he added another to his ever-growing collection against Barcelona on Saturday.
Barca looked set to close the gap on Real at the top of La Liga to three points at Camp Nou before Ramos cracked his knuckles and intervened by finding the back of the net late on in the Clasico.
And, unbeknownst to Ramos as he and his team-mates celebrated the effort, Twitter exploded as the Spain international's header earned Real a crucial point in the race for the Liga title.
Here are some of the best ones...
Ramos always finds a way to score

— Giants fan again (@BasedChasen) December 3, 2016
Sergio Ramos: "Need a last minute goal, Call Me." pic.twitter.com/Ri0qpTxk6O

— Newar (@DeadlyCristiano) December 3, 2016
Sergio Ramos was embarrassing defensively. Scores a clutch goal and everyone will think he was great. Story of his career.

— Sergi Domínguez (@FutbolSergi) December 3, 2016
Need to save your day and score a last minute goal?

Dont hesitate to call 800-RAMOS. pic.twitter.com/kKhOIWSyAx

— TheRMFam (@RMadridFamily7) December 3, 2016
We can hate on Ramos' ability but he has to be the most clutch defender of all time.

How many times has he done this on the biggest stage?

— Chu (@ChuBoi) December 3, 2016
Ramos gets paid only to score 90th minute headers. It's actually written in his contract somewhere. #ElClasico

— SLEIGH BUCKS(@TheMasterBucks) December 3, 2016
Atletico fans and Barca fans can bond over having nightmares about Sergio Ramos.

— Saajid (@ilovereal) December 3, 2016
Can't believe how many goals Ramos scores for a defender. Great draw for Madrid. #ElClasico

— michael owen (@themichaelowen) December 3, 2016
I want an entire street written in Sergio Ramos' name in Madrid.

— Ali (@RM_Insider) December 3, 2016
Sergio Ramos' desire and love for Real Madrid is something to be admired. Might not be the defender he once was, but motivates the team.

— Liam Canning (@LiamPaulCanning) December 3, 2016
Ramos will be the death to many of us.

Mark my words!!!

— TheRMFam (@RMadridFamily7) December 3, 2016
Sergio Ramos is the ultimate big game player. What a leader. pic.twitter.com/Bqi8KGE5lf

— FutbolBible (@FutbolBible) December 3, 2016
Sergio Ramos and late headers, a love story. #ElClasico

— David Cartlidge (@davidjaca) December 3, 2016
Statue of Ramos outside Bernabeu needed.

— Kárim Balushi (@KarimB92) December 3, 2016
No match is over until Ramos says so

— Baha (@Baha) December 3, 2016