Harry Redknapp
Harry Redknapp wins 'I'm a Celebrity Get Me Out of Here'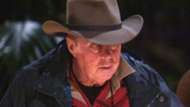 Football manager Harry Redknapp has won the latest season of reality show "I'm a Celebrity Get Me Out of Here."
The veteran manager received the most votes from the public out of the three finalists and was announced as the winner in the series finale on Sunday evening.
Redknapp stole the hearts of the nation and quickly established himself as favourite with his with his amusing anecdotes and love for jam roly-poly.
Actor John Barrowman finished in third place, with actress Emily Atack in second.
Speaking live on ITV after being crowned King of the Jungle, Redknapp said:
"I'm amazed, I'm amazed I survived three weeks.
"I'll be honest, when I first came here I thought, 'oh my God I'm in trouble here'.
"I looked at the group and I thought 'none of them are interested in what I'm interested in'.
"It was only Nick (Knowles) really who knew a little bit about football and I thought 'this is going to be a hard couple of weeks'.
"But they've just dragged me through it, every one of them. They're the most lovely people I've ever met, the whole group.
"There wasn't one person I could ever say one single bad word about. They were amazing."
During his time in the jungle, the former West Ham and Spurs boss has eaten sheep brains, fish eyes, and had to endure five minutes locked in a confined space with hundreds of rats and critters in the final episode.
Redknapp also regaled the camp with his stories about his wife of 54 years, Sandra, and how he met her a nightclub called 'Two Puddings' and once ran her over in his car by accident.
His last job in football was with Birmingham City and he has been out of work since leaving the club in September 2017.
Perhaps Redknapp's most famous moment in the game came in 2008 when he guided Portsmouth to a first FA Cup trophy since 1939. 
In 2012 he was heavily linked with the England job, only for Roy Hodgson, now of Crystal Palace, to take over instead.