Asian Cup Qualification
Harimau Malaya to play friendly before Hong Kong encounter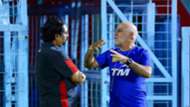 After Malaysia opened their 2019 Asian Cup qualification campaign with a 2-1 home defeat to Lebanon, the Harimau Malaya head coach Nelo Vingada told the press that he will focus more on scouting players in the domestic leagues.
Malaysia's next qualification match will only take place on September 5, against Hong Kong at home.
"In July the leagues (M-League) will resume and the cup (Malaysia Cup) will kick off, while Malaysia U22 will take part in the 2018 U23 AFC Championship qualifiers and the SEA Games.
"Of course I will get to do a lot of reference (observation) in July and August. I am happy with the players I have now and if they are selected for the next match in September they will be better, but now I have the chance to watch players in the league and in the (Malaysia) U22 team.
"I believe we can find more players to join the current squad and form a stronger team," revealed the former Asian Cup-winning coach.
And he also plans to hold a prolonged centralised training camp and a friendly match before the Hong Kong encounter.
"The leagues will take another break in August with the last round to be played on the ninth or tenth, I will give them a four,five-day break.
"Then in mid-August we'll start preparations for the Hong Kong game; a training camp and probably one friendly match - home or away - against a team that play with the same style as Hong Kong," he explained.
Malaysia are currently bottom of Group B in the qualifiers with no points after one match but with one game in hand, while Hong Kong are in third in the four-team group, with one point after two games.