Premier League
Guardiola doubts Gabriel Jesus will be fit enough for FA Cup clash with Arsenal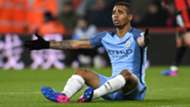 Pep Guardiola doubts that Gabriel Jesus will be fit enough for Manchester City's FA Cup semi-final against Arsenal.
Jesus is recovering from a broken bone in his foot and returned to light training last Monday.
Guardiola revealed that the Brazilian stepped up his recuperation towards the end of last week, but thinks the game on April 23 will come too soon.
"The semi-finals are in two weeks?" he asked. "I think it's short. We thought the semi-finals of the Champions League but unfortunately it's gone. Hopefully [he will be fit for] the final [of the FA Cup] if we arrive.
"I don't know. He's getting better. The last two days, sunny days, he was out on the pitch. When the weather is like normal in Manchester he is off the pitch," he added in jest.
Jesus was thrown straight into the City side at the expense of Sergio Aguero earlier this year, leading to the Argentine suggesting that the club may not retain his services beyond the end of the season.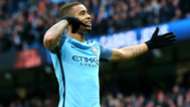 City have always maintained that Aguero will not be sold, while Guardiola insists he wants the striker to up his work-rate on and off the ball.
Aguero has scored 10 goals in the 11 games since Jesus broke his foot at Bournemouth, and his strike for City's second on Saturday, when he finished off a flowing team move, was his fourth in his last four outings.
But Guardiola has noted a huge improvement in his overall contribution to the team.
The stats that show Gomes is the new Xavi!
"He's more involved in the game, he's not just in the box scoring goals," he said. "He's involved in our process. When I was talking about the second goal, for everybody to be involved, it was for that. Not just for the strikers to be there, for the ball to arrive and score a goal.
"He's arrived in our process. He's touching and involving. He comes and gets out for the central defenders, spreads out for the positions he normally leaves, and makes the actions, and I like to see that."