Manchester City
Guardiola: Aguero's foul on Luiz was not intentional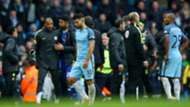 Pep Guardiola says he does not believe Sergio Aguero's foul on David Luiz was intentional.
Aguero horror tackle sparks ugly scenes
Aguero was shown a straight red card for an X-rated lunge at Luiz in the closing stages of Chelsea's 3-1 victory against Manchester City on Saturday lunchtime.
The Argentine now faces a four-match ban, given he was retrospectively banned for three matches earlier in the season, and will miss games against Leicester City, Watford, Arsenal and Hull City.
But, while Guardiola was keen not to discuss referee Anthony Taylor, who had decided not to send off Luiz for a foul on Aguero in the first half, he did make several references to the officiating in the Premier League, including previous decisions that have gone against his side this season.
"It is a pity it finishes like this," he said after the game. "It was the way the referee decides. It is a pity. I apologise."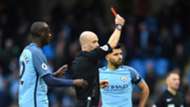 When it was put to him that Aguero had lunged in at Luiz, the City boss tried to downplay the seriousness of the incident.
"Both players," he replied. "He went down and he touched him. It wasn't intentional."
Asked if he really thought it was unintentional, he added: "I don't think so. Maybe I have to understand many things here but the referee says red card so red card. Like Nolito…"
Twitter reacts to De Bruyne's miss
Nolito was sent off against Bournemouth for pushing his head towards Adam Smith back in September, a decision which Guardiola still appears not to have come to terms with.
When asked about the prospect of missing Aguero for four games, Guardiola referred back to the earlier bans for the Argentine and Nolito.
"He [Aguero] was lost before as well. Three games off so Aguero and Nolito. It didn't make anything and it was six games off. We accept that. It was a red card. Ok we are going to deal with that."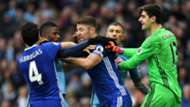 Guardiola then said it was a "pity" what had happened when Fernandinho was sent off for grabbing Cesc Fabregas, but before he could be asked his next question he went back and referred to the Nolito decision once again.
"Fernandinho went to defend his team-mates, because what happened with Nolito was red card and three games. So Fern went to defend his team-mates because of that."
Guardiola, though, did insist he did not want to make any excuses for his side, and instead lamented their inability to take their chances and keep out the opposition.
Twitter reacts to Cahill own goal
"Congratulations to Chelsea," he said. "Giving my opinion when you lose it looks like an excuse. I am so proud of my team and how we played. I came here to try to play the way we played today. We created more chances than Burnley and Crystal Palace when we won.
"In the first half [they had] one chance from [Eden] Hazard and after that we arrive two or three more times in the goal. I congratulate my team for what we did. In the boxes we are not strong enough.
"Against Everton we miss two penalties. We play quite well today but the opponents arrive and score goals. When that happens, it is tough for the players. At Crystal Palace maybe we didn't deserve to win. It is part of the process. We keep fighting and try to keep winning. But I don't have regrets."