African All Stars
Ansar-Ud-Deen's Rofiat Alakitan reveals motivation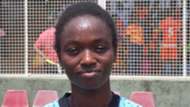 Rofiat Alakitan of Ansar-Ud-Deen College reveals motivation for her matchwinning display against Jibril Martin Memorial Grammar School in their GTBank Masters Cup quarterfinal encounter.
The game ended 0-0 and headed into penalties where the goalkeeper saved twice to lead give her side a 3-1 victory.
And she claims she wants to deliver the diadem to her school before she leaves.
"I'm very happy! Because I'm the captain, the goalkeeper and also the last man. And I will be leaving the school soon. So I want to enter the final because we have never done such before," Alakitan told Goal.
"So I took it as a determination so that it will be in the records. I'd have felt very bad because my coach told us to get the win.
"After finishing the second half my coach called me and said this is your last assignment for this school; so that alone was enough motivation.
'I've gained so much because I do not know how to keep before, it is from JSS 2 they have been nurturing so I learned it and gradually I've become a good goalkeeper," she concluded.