KPL
Gor Mahia coach Dylan Kerr: AFC Leopards should pay for crowd trouble at Kasarani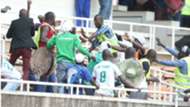 Gor Mahia head coach Dylan Kerr has insisted that he did nothing wrong while celebrating the team's second goal against AFC Leopards on Saturday.
A section of Ingwe fans were caught on tape ripping the seats at Kasarani but the club have now distanced themselves from any wrong doing, saying that the home team should take full blame.
Ingwe have also questioned the integrity of the match officials and the general conduct of Gor Mahia coach Dylan Kerr. "The action of our counterpart coach after the second goal should be discouraged as it doesn't show sportsmanship and only acts to incite fans."
Responding to Ingwe claims, the Briton tactician has told Goal that he did not incite fans to act like they did. "How am I to blame for the riots? If I celebrate, I did it with my fans and was pelted with water bottles from AFC Leopards fans.
"Any team that wins the league will always invade the pitch …but AFC Leopards are totally responsible for their fans action, not Gor Mahia. My main aim was to try and calm the fans down, I also went to request my fans (Gor Mahia) to stay safe from the flying objects."
AFC Leopards have already denied knowledge of the hooligans, who vandalized seats at the refurbished Kasarani and have promised to have them arrested.
"The hooligans, who were pictured destroying seats at the stadium are not members of our club and we have engaged members, who can identify and help bring them to book for tainting the image of the club."
Gor Mahia won the derby 2-0 to clinch a record 17th Kenyan league title.