KPL
Gor Mahia chairman delighted with new constitution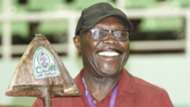 Gor Mahia chairman, Ambrose Rachier, has expressed his delight in the club's newly adopted constitution.
Rachier said that the new law that was passed at the last Annual General Meeting  AGM held over the past weekend, is set to bring about development at the club.
"I am happy for delivering a new constitution to Gor Mahia. It has been a tough process but we had to tighten all ends to make it a reality," noted the chairman. 
"This is a constitution that will take Gor Mahia many steps ahead. Just to highlight, we have recognized the branches as part of the club's structure," Rachier told the club's official website.
"We have adopted the Barcelona membership model which will be affordable to many fans. The model is viewed as one of the best and membership is one of the many ways the club can anchor itself on matters sustainability. We will advise fans on the membership drive very soon," Rachier added.
Among the major changes brought about by the new document is the reduction of number of elected club officials. 
As opposed to the original constitution which had 11 elective positions,  the new document has five elective positions and term of office bearers will now be four years not two years like in the previous case. 
"In the new constitution, gender has been considered and the office bearers will have a four-year term and only five elective positions. We will have the Chairman, Vice-chairman,   one Secretary General, Treasurer and Organizing Secretary. 
"This is in-line with the Sports Act and Fifa regulations where we have also created room for the position of Chief Executive Officer, head of security and there will be someone appointed for finance department. The positions will be advertised and qualified individuals will be appointed."