Perak
Goodbye to a German who put his print in Malaysian football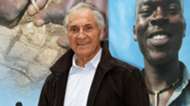 13th June 2017 will forever be a dark in the history of Malaysian football, not because of any matches played but because on that day, the nation lost a great man that was undoubtedly the single greatest coach that has ever served within these shores.
Karl-Heinz Weigang took his last breath on that fateful day and the sign of his influence in the nation's most followed sport is marked by the one minute of silence that preceded the Malaysia versus Lebanon Asian Cup qualifying match on the same day.
The German has stamped his mark in the annals of football history, especially in this tiny South-East Asian country. From guiding the national team to the Olympics albeit later not participating due to political reasons, to leading Perak to their sixth and seventh Malaysia Cup triumphs in 1998 and 2000, to helping the same team escape relegation from the Super League in 2016 at the ripe old age of 80 when extreme odds were stacked against the them doing so.
1998 Malaysia Cup final (C) Lim Han Yung
It was that cup final in 1998 that would forever be entrenched in my memory of my first brush with the great man, from afar. It was the first ever cup final that I've ever attended and the first time that a domestic cup final is held in the iconic Bukit Jalil National Stadium. A scrappy 120 minutes didn't dilute any delirium that I personally felt as a fan when the fifth Perak spot kick was converted and thus handing Perak their first Malaysia Cup trophy since 1970.
On a more professional front, I only had the privilege to deal with Weigang since 2016 when he returned to the Silver State in a coaching capacity having been coaxed by the Perak Football Association (PAFA) to come back to help the team that was languishing in the unwanted relegation spot for much of that season. 
A stern and serious looking elderly German man faced the media after a 1-0 Perak win over Selangor at the Shah Alam Stadium. The post-match press conference lasted five times longer than a usual one. Weigang went off on a rant, calling the game - "this is not football". Angry at his players for failing to adhere to instructions, Weigang talked for almost 90 minutes when there were only five or six questions asked of him, in total.
Known as a no-nonsense man, Weigang is not one to mince his words and he didn't have to. As someone who has seen how the sport in Malaysia has grown or developed over five decades and be as involved as he had - few people have more authority to speak about the game here than him. As a football journalist, his colourful remarks and retorts make for fantastic and interesting stories to be presented to the readers.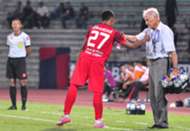 My last encounter with the great man came in March of 2017. A fellow journalist and two PAFA officials were at the Kuala Lumpur International Airport to send Weigang off for a short trip back to Germany, just a few weeks after he had been unceremoniously removed from the position of the head coach at Perak. Even at his age, Weigang remained steadfastly a proud man and was displeased at some of the reporting that has been done that stated he was sacked from PAFA.
The fact remained that his contract wasn't torn up and he was still to continue with his role at Perak as the Technical Director, going to outskirts place like Manjung to guide and teach the local coaches. A function that he continued to perform up to a few weeks back in May, before he went back for a short break in Germany but one that ultimately proved to his last trip to his second home.
So here's to you Mr Karl-Heinz Weigang. Thank you for your service to the sport, to Perak and to the nation. I trust you will be forever looking down from above and hoping that the sleeping giant that is Malaysian football will rise once again.