Goal USA Podcast: Ethan Finlay aims for resurgent Crew campaign in hopes of USMNT recall
Last Updated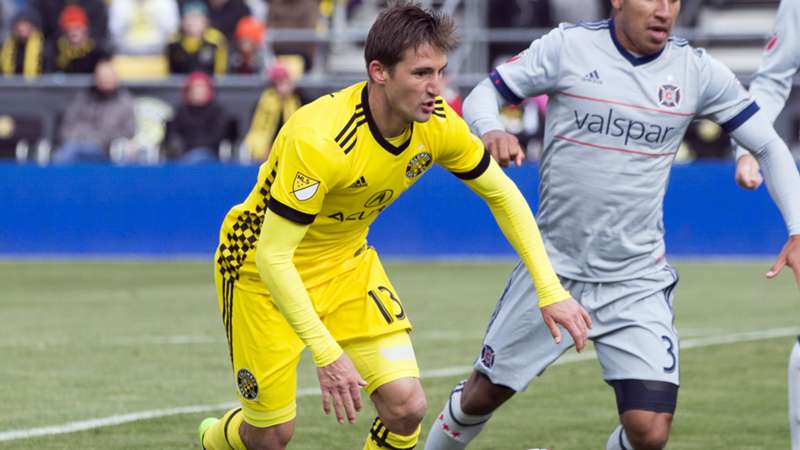 Greg Bartram
WASHINGTON — Ethan Finlay hasn't enjoyed the smoothest path to prominence.
Having moved from North Carolina to hockey-mad Wisconsin at age 12, he found himself regularly embarking on six-hour round trips from his hometown of Marshfield to Milwaukee in search of quality training. Hoping to return to the Carolinas for college soccer, Finlay never got any letters from ACC schools. The Big Ten didn't come calling either. So he embraced an opportunity at Creighton, scoring 43 goals in four years and earning a slot on the Hermann Trophy shortlist in 2011.
But the 10th overall pick in the 2012 draft endured a sluggish start to life in MLS, making just six starts over his two campaigns. At times, he found himself wondering if that dogged dedication had come in pursuit of a pipe dream.
"My first two years weren't easy," Finlay said on the Goal USA podcast. "There's definitely that moment of like, 'Did you make the right decision for your career?'
"In high school you're kind of the top dog, and I go to college and I have 71 starts and play all but one game. You've played every minute, it seems like, and all of a sudden you're struggling to make a [game-day roster] and you're sitting on the bench and you're lucky to get in for 10 minutes. And then what do you do with that 10 minutes? It's tough to do in this league."
Then Gregg Berhalter took over as Columbus Crew coach in 2014. With a new boss came a fresh start, and it certainly didn't hurt that Finlay was an ideal fit for Berhalter's proactive system. After breaking out with 11 goals during that first season under Berhalter, the midfielder earned an All-Star nod in 2015 while recording 12 goals and 13 assists for a Crew side that advanced to the MLS Cup final.
"I had a lot of moments where you find yourself a little bit alone, and in those moments in all honesty you kind of have to come to terms with yourself that the only person that's going to get you out of this is yourself," Finlay said. "I was able to battle those internal demons and just say, 'OK, it's just going to happen.'"
Finlay's form caught the eye of then-U.S. coach Jurgen Klinsmann, who summoned him for the national team's annual January camp. After earning a pair of caps in friendlies, Finlay made his competitive debut in a World Cup qualifying win over Guatemala that March at Mapfre Stadium in Columbus.
With the U.S. now preparing to face Honduras in a crucial World Cup qualifier Friday, nearly a year has passed since Finlay's last call-up. After seeing his production dip to six goals as Columbus missed the playoffs last season, the 26-year-old missed out on Bruce Arena's first January camp since returning as coach in November.
But Finlay doesn't feel snubbed. In fact, he's encouraged. When he sees a player such as FC Dallas midfielder Kellyn Acosta earn a call-up amid a scorching run of form, he sees a path to a recall.
"With the coaching change, he's got new guys and new ideas, which I think is good," Finlay said. "It's refreshing obviously for the national team and extremely important in a time of need. You talk about the recent call-ups — I think they're very positive.
"For me, I see there's a direct correlation, a clear correlation. Some of these guys that are having success at the club level are getting called in. Kellyn Acosta is just the perfect example of it, right? So for me, it's about focusing first and foremost on what I'm doing here."
Although Finlay acknowledges he's only on the fringes of the national team picture, he sees this summer's Gold Cup — which the U.S. likely will contest with an experimental roster — as a key opportunity. A year after hoping a strong spring would land him a spot at the Copa America Centenario, the winger finds himself in a similar situation.
The last 12 months may not have gone according to plan, but Finlay isn't fazed. He's not used to things coming easy, after all.
"I've got probably 12 or 13 games before that roster would come out," Finlay said. "What kind of numbers and what kind of performances can I string together in that time? So that's the goal there. But it all goes through the Columbus Crew SC vessel.
"And it's important not to get too fixated on it. I think last year I got a little fixated on it and my performance dipped during that April, early May time before last year's competitions. That doesn't help. So for me, it's keeping a clear mindset on what we're doing here with Columbus — and that will hopefully take care of itself."
Check out the full episode of the Goal USA podcast above as Finlay discusses the challenges of growing up as a soccer player in hockey country, his radical idea for revamping penalty kicks and much more.
To find all of our episodes, subscribe on SoundCloud and iTunes.