Simba
Who is Ligi Kuu Bara's striker of the Season?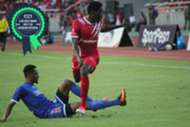 For the second season in a row the Golden Boot Award will go to a winger instead of a natural number nine. This also occurred last season when Simon Msuva grabbed the award and this time around Emmanuel Okwi has repeated the same.
Okwi and Msuva are not the kind of players who stick up front as number nines but rather drop down and get wide to take the ball.
Tambwe was the last number nine to win the award three seasons ago when he scored 21 goals in 2015-16 season.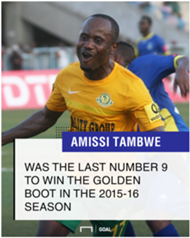 Goal looks back at the season and lists the Top 5 Strikers who emerged as rescuers to their teams.
---
1. John Bocco (Simba)
---
No doubt about John Bocco's importance since he joined Simba from Azam prior to this season.
Many people believed that age will be a problem for Bocco to deliver after Azam released him but he has proved them all wrong.
His 14 league goals kept him only behind his striker partner Emmanuel Okwi. His work rate improved as the season went on and surely Simba got their man up front this season.
Few can argue that not only is Bocco Simba's best striker but he has been the standout striker accros the league this season. And his contribution to Simba Ligi Kuu Bara title win can not be under estimated.
---
2. Marcel Kaheza (Maji Maji)
---
 The April player of the month, his hat trick against Ruvu Shooting on April 28 made him one of the three players to achieve that glorythis season alongside Emmanuel Okwi and Obrey Chirwa.
The young star who had a spell with Simba has netted 13 times which is half of his whole team's goals.
---
3. Obrey Chirwa (Yanga)
---
The Zambian striker had an inconsistent season although he remains to be one of the top striker in the Tanzania Premier League.
The problems outside the pitch minimized his influence on the pitch but still he managed to grab 12 league goals with two hat tricks which is the most for a single player this season.
In this list, Chirwa is also the payer to play less game which makes his strike rate the most succesful of anyother player.
---
4.Mohamed Rashid (Tanzania Prison)
---
When you talk about Tanzania Prison this season, you can't avoid to mention the name of Mohamed Rashid.
He was their liveliest player throughout the season and most of the teams struggled to deal with his goal threat.
His nine goals kept him just behind five strikers but when you look at the players above him are all from Top teams with an exception to Marcel Kaheza.
---
5. Eliud Ambokile (Mbeya City)
---
To score 10 goals at Mbeya City is not an easy job at all. The team has had an inconsistent season but his form in front of goal was a constant.
His presences up front gave Mbeya City a goal threat especially when they played against the big guns.