A-League
Glory coach laughs off Sydney fitness claims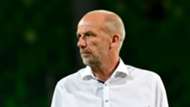 Perth Glory coach Kenny Lowe says he was amused when hearing Sydney FC coach Graham Arnold's claims that the Sky Blues were the fittest team in the A-League.
"His team are fit, but every team is fit in the A-League. I like the way Arnie [Graham Arnold] twists it and blows it, it's brilliant.
"That's part and parcel of Arnie's personality. Which is good fun. I always have a giggle at Arnie," Lowe told www.a-league.com.au on Friday as Glory settled in to Sydney ahead of Saturday night's blockbuster.
But what will be the key to this semi final? And can a team that finished fifth on the ladder defeat the runaway premiers on their home turf?
Sydney FC - Perth Glory Preview
According to the Glory boss, there'll be a few factors in play but he'll need his big players to perform on the biggest of stages at Allianz if they are to have any chance of causing an upset.
"Big players standing up, or the opposition dealing with big players. Mistakes or blunders, errors and maybe the odd refereeing decision.
"So there are variables that can throw a twist in the game," he said. "55 goals scored by each team [this season]. Probably the two best players in the league in Ninkovic and Castro, with a few more thrown in that really excite.
"It's not going to be a quiet game. It's not going to be a 0-0.
"It'll be end to end and open and hopefully if we can keep doing what we do, we can pinch one more than them, which will be nice."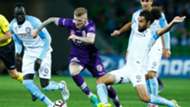 Andy Keogh, Perth Glory
Perth have spent around 12-14 hours in the air over the last week after flying to Melbourne to defeat City in the Elimination Final last weekend, flying home to WA before taking another flight across the country again to Sydney.
"[The flying] is a variable you just forget about because we don't dwell on that. Because there's a bigger picture and that's we want to get through.
"We don't look at negatives, just positives," Lowe added.
And if Perth enjoy a positive result and depart from Allianz Stadium victorious on Saturday night, Glory will earn a spot in the grand final in either Melbourne or Brisbane.
"More flying!" Lowe said, with a smile. "This is what you want to be involved in [the finals]. Otherwise you're sat at home and the season's over.
"We have belief. It's going to be tough. And I've been in enough Cup games when I think we'll win and we don't and you think we won't and we win.
"So it'll be a good one for us to win."