Opinion
Giving back to the community: TECNO Mobile is Helping African Kids talented in football realize their dreams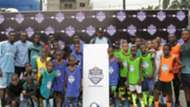 The dream of every parent is to see that the dreams of their kids are realized. Football has become one of the most rewarding professions in the world and as a result many kids dream to become professional footballers. To realize their football dream, they need both local and international exposure which many of these parents cannot afford. That is why a Brand like TECNO Mobile is coming in to help some Africans Kids talented in football realize their dreams.
TECNO Mobile will be Sponsoring 16 kids aged 12-15 years from Nigeria, Kenya, Tanzania, Mali, Egypt, Ghana and Cote d'lvoire to the UK for an opportunity to train with world class coaches at Manchester City Football club. This is coming as a result of the partnership deal they signed with Manchester City Football Club as the Official handset and tablet Sponsor.
TECNO wants to ensure that the dreams of these African kids talented in Football are realized through its partnership with the Manchester City Football Club. These kids will be kept busy in Manchester City Football Camp where they will be taught the rudiments of football like how to run with and without the ball, positioning and shooting.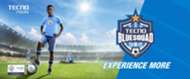 They will be exposed to a lot of modern day football tactics and at the end of their training; they are expected to be more creative and knowledgeable in the game.
What is more interesting is that TECNO Mobile will be footing all the expenses of these lucky kids to the UK. This means the parents of these kids will not be paying a dime throughout their stay in the UK.
To ensure the right talents are found and selected in a transparent way, TECNO Mobile Nigeria undertook a clinical trial for teens aged 12 – 15 on Wednesday, 16th August 2017, at Shell's Solar Powered Football Pitch at the Federal College of Education and Technology, Akoka Lagos. Participants were drilled with assistance from internationally recognized Football Academy Coaches, testing their endurance levels, skill, precision, attitude on the soccer pitch and other characteristics demanded of a football star.
Three Youngsters will be selected from Nigeria and will will leave Lagos for Manchester City to join their other African counterparts on August 23th, 2017, on an all-expense paid trip to hone their skills at the Etihad Stadium in UK. TECNO Mobile and Manchester City Football Club have both expressed delight in their partnership which will be helping people achieve their humankind potentials.
See Photos from the Football trials in Nigeria: