Arsenal
'Give Ramsey a new contract!' - Arsenal fans urge club to keep midfielder after star display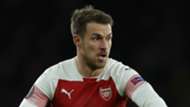 Aaron Ramsey may be leaving Arsenal after the season, but Gunners fans are urging the club to reconsider their stance after the Wales star produced another fantastic display on Sunday. 
After coming on as a half-time substitute against rivals Tottenham, Ramsey provided two assists in Arsenal's 4-2 victory at the Emirates Stadium. 
Ramsey endeared himself to Gunners fans even before he entered the pitch, as he got into an altercation with Eric Dier after the Spurs midfielder levelled the score at 1-1 in the first half. 
With his contract set to expire and no new offer believed to be forthcoming, the 27-year-old is expected to leave Arsenal at season's end. 
The Gunners withdrew their contract offer to Ramsey, but supporters will be hoping their club change their tune after a star performance in the north London derby. 
Dear @Arsenal

Give Aaron Ramsey a new contract.

Regards
Arsenal fans pic.twitter.com/HJQUGzGPSQ

— Lacazettes (@Lacazettes) December 2, 2018
Aaron Ramsey:

Been screwed by the club
Gets into a fight on the sidelines
Comes on at halftime and changes the game

Utmost respect. What a day for him

— Le Grove (@LeGrove) December 2, 2018
Chat to me about Aaron Ramsey haters. What an impact he has had. Despite the club dealing with his contract horribly, 100% professionalism. 2 assists and unbelievable running. One of the best midfielders around, blessed to have him.

— LTArsenal™️ (@ltarsenal) December 2, 2018
Aaron Ramsey has literally been told he won't be given a new contract at the end of the season and he's put more in for his club than some of our players have put in all season.

— The Man Utd Way (@TheManUtdWay) December 2, 2018
I want Aaron Ramsey to stay.

— Pain In The Arsenal (@PainInThArsenal) December 2, 2018
Aaron Ramsey will always stand up for his teammates, the supporters and most importantly, the club. pic.twitter.com/xmGEzkUdYz

— LTArsenal™️ (@ltarsenal) December 2, 2018
No player has provided more PL assists this season than Aaron Ramsey (6 assists). #afc pic.twitter.com/8YcG3AgG5T

— afcstuff (@afcstuff) December 2, 2018
Aaron Ramsey's game vs Spurs by numbers-

Minutes played - 45
Assists - 2
Chances Created - 4
Key passes - 2
Recoveries - 4
Touches - 23
Duels won - 2

The game changer, we must do everything to get him on a new contract. pic.twitter.com/9F1VaX7RTe

— Luke (@AFCLuke_) December 2, 2018
NEVER LEAVE AARON RAMSEY

— Men in Blazers (@MenInBlazers) December 2, 2018
Why on earth are Arsenal allowing Aaron Ramsey to leave? He's surely worth a new contract. His passion, passing and work-rate so important to Arsenal's comeback against Spurs. Delivered an immense 45 minutes. His quality and character will be expensive to replace. #afc #ARSTOT

— Henry Winter (@henrywinter) December 2, 2018
Victory against Spurs stretched Arsenal's unbeaten run to 19 games, and pushed Unai Emery's men up to fourth place in the Premier League table.