Manchester United v Swansea City
'Give cakes to the guys!' - Bizarre moment Mourinho invites beaten Carvalhal to share his press conference
Jose Mourinho has endured his fair share of run-ins with fellow bosses down the years, but the Manchester United manager was happy to share his press conference with Carlos Carvalhal on Saturday.
The Red Devils had just wrapped up a 2-0 victory over Swansea when two touchline rivals prepared to face the assembled media.
With three points in the bag, Mourinho was in high spirits as he took to his seat.
Romelu Lukaku's 100th top-flight goal and a welcome effort from January signing Alexis Sanchez allowed United to cement their standing in second spot.
Mourinho was offering his take on the contest when fellow Portuguese Carvalhal caught his eye.
He beckoned the Swansea boss to join him, while making reference to his compatriot offering Easter treats to reporters at a pre-match press conference.
"Come on, come on - give cakes to the guys," Mourinho said.
Carvalhal accepted the invitation, saying of a meeting with a close friend: "I think Manchester United deserved the win.
"It is so clear than Manchester United started to play very strong with high intensity.
"Our problem was it was difficult to control [Paul] Pogba and [Nemanja] Matic because they started to control the game with their two players. We can't put pressure on them.
"And because we can't put pressure on them, we play too much near our area and with the players that they have between the lines they create problems."
Mourinho agreed that his side had enjoyed greater control of a Premier League clash, with there few faults to pick with the Red Devils.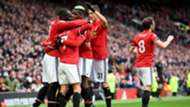 He said: "The first half was perfect. Maybe one more goal and game over and the first half [would be] probably one of the best we played here.
"First half they didn't cross the midfield line, didn't have one shot. We pressed so high and strong, and then recovered the ball.
"We had lots of movement and passing. We arrived in many dangerous positions, we scored two, we should have scored at least one more.
"The second half was different. I think, first of all, credit to Carlos because he improved the team at half-time.
"But I think we let it go a bit, probably because six or seven players played international football midweek.
"I could feel the intensity went down. We let them have the ball, we didn't press so high.
"Our transition when we lost the ball was slower, our passing was slower, our movement the same, so players with an amazing first half in the second half, they let it go down a little bit.
"And then they felt they had a chance. David had to make a couple of saves, but in this moment of the season, seven matches to go, points are gold.
"We got the points and are ready to fight stay in second position."