Africa Cup of Nations Qualification
Ghana coach Appiah delighted with win over Ethiopia amid 'poor' weather conditions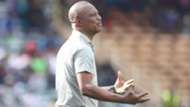 Ghana coach Kwesi Appiah says his players struggled with playing at high altitude against Ethiopia in the 2019 Africa Cup of Nations qualifiers in Addis Ababa on Sunday.
The Black Stars looked very poor in the second half after two goals from Jordan Ayew had given them the lead early in the game. They were visibly struggling for breath but had to battle until the end to preserve their lead and keep hopes of qualifying for the Afcon finals alive.
"The players did well considering the nature of the pitch and secondly the high altitude in Addis Ababa so I'm happy," Appiah said.
"It wasn't easy. Even though, I was standing out there on the touchline, I was sometimes finding it difficult to breath because of the poor weather. So for them to play the entire 90 minutes without conceding or losing, I think they've done really well.
"Tactically, after we went ahead by two goals, the intention was to make sure they would be able to contain the weather and for that reason the opposing team had opportunity to maintain the ball more," he said.
"At the end of the day, if they possessed more of the ball and did not score, we don't have problems with that. Looking at the altitude, it was very difficult in the second half for our players," he added.
Ghana have leapfrogged Ethiopia to second place with six points but are one point behind leaders Kenya, whom they will play against in the final matchday in March next year.