Guardiola
'Genius' Guardiola two levels above any other Bayern coach in history - Howick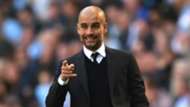 Former Bayern Munich press chief Markus Howick has described Pep Guardiola as a "genius", but believes that players wouldn't commit themselves to him like previous coaches.
West Ham to keep Chelsea target Antonio
Guardiola left Munich for the Etihad Stadium at the end of the 2015-16 season, having won seven trophies, including a Bundesliga in each of his three seasons at Bayern.
However, he failed to win a Champions League title like his predecessor Jupp Heynckes, who retired on the back of that success to allow the Spaniard to take the reins.
And Howick, who was press chief at the Bavarian club for 33 years before leaving last year, believes that, despite his success, players were not willing to commit to the Spanish manager in the same way as previous Bayern coaches.
"Pep Guardiola is a genius," Howick said, at a journalists' event in Munich.
"He is two levels above every coach we ever had at Bayern Munich.
Man Utd 'miss belief' - Mourinho
"But the players did not go through the fire for him. For Jupp Heynckes and Ottmar Hitzfeld they did go through the fire and that's what made their success possible.
"But every young coach makes mistakes and when Pep joined Bayern he had worked as a coach only for six years."