Super League
Full list of Malaysia Super League mid-season transfers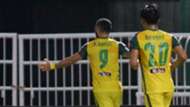 It was a busy second transfer window for teams in the Super League and every single team in the division utilised the mid-season window to make changes to the playing staff.
FMLLP released the full list yesterday and it saw 41 players transferred in and 36 players transferred out, some of which appeared on both sides.
Harry Novillo, Jorge Santos Silva, Alaeddine Bouslimi and Dany Karl Max were the four imports players signed by Johor Darul Ta'zim, Kelantan and PKNP FC respectively who failed to retain the trust of their employers while the window was open, for one reason or another.
Surprisingly though, league leaders JDT were the ones with the highest transfer ins with seven players brought in although that is mainly down to them replacing the two aforementioned import players as well as to accommodate the return of Syamer Kutty Abba and Dominic Tan.
Relegation battlers Melaka United and Kelantan are the next two teams who brought in the highest number of players with six. 
Selangor, Pahang and Terengganu were the ones that looked most happy with their squads and only made minimal changes with none of the teams adding more than two players. 
Here's the full list of changes:
Johor Darul Ta'zim (IN)

Harry Novillo (France) 
Jorge Santos Silva (Brazil) 
Kiko Insa (Malaysia) 
Syamer Kutty Abba (Malaysia) 
Dominic Tan (Malaysia) 
Fernando Marquez (Argentina) 
Fernando Elizari (Argentina) 

Johor Darul Ta'zim (OUT)

Luciano Figueroa (Argentina)
Nicolas Fernandez (Italy) 
Harry Novillo (France)
Jorge Santos Silva (Brazil)
Amirulhadi Zainal (Malaysia) 
Darren Lok (Malaysia) 
Fazly Mazlan (Malaysia) 
Junior Eldstal (Malaysia) 

Kedah (IN)

Paulo Rangel (Brazil) 
Ramadhan Ab Hamid (Malaysia)

Kedah (OUT)

Pablo Pallares (Spain)
Osman Yusoff (Malaysia) 

Kelantan (IN)

Ahmad Haziq Ahmad Puad (Malaysia) 
Alaeddine Bouslimi (Tunisia) 
Baktyiar Duishobekov (Kyrgyzstan)
Lazarus Kaimbi (Namibia) 
Faridzuean Kamaruddin (Malaysia) 
Cristiano Marcolino Sankes (Brazil) 

Kelantan (OUT)

Ahmad Sukri Ab Hamid (Malaysia)
Khairul Fahmi Che Mat (Malaysia) 
Shahrul Azim Ab Halim (Malaysia) 
S. Veenod (Malaysia) 
Ramdhan Ab Hamid (Malaysia) 
Faris Shah Rosli (Malaysia) 
Do Dong-hyun (South Korea) 
Mohamad Ghaddar (Lebanon)
Alaeddine Bouslimi (Tunisia)

Kuala Lumpur (IN)

Sharbinee Allawee Ramli (Malaysia) 
Na'im Nazmi Zainudin (Malaysia) 

Melaka United (IN)

Syahrul Azwari Ibrahim (Malaysia) 
S. Veenod (Malaysia) 
Lee Chang-hoon (South Korea) 
Faris Shah Rosli (Malaysia) 
Khairul Fahmi Che Mat (Malaysia) 
Ifedayo Omosuyi (Nigeria) 

Melaka United (OUT)

Faridzuean Kamaruddin (Malaysia) 
Jeon Woo-young (South Korea)
Tiago Gomes (Portugal)

Negeri Sembilan (IN)

Alex de Moraes (Brazil) 
David Rowley (Malaysia) 
Angel Guirado (Philippines) 
Osman Yusoff (Malaysia) 

Negeri Sembilan (OUT)

Prak Mony Udom (Cambodia)
Nizam Ruslan (Malaysia)
Redzuan Abdullah (Malaysia)
Renars Rode (Latvia)

Pahang (IN)

Issey Nakajima-Farran (Japan) 
Austin Amutu (Nigeria) 

Pahang (OUT)

Chan Vathanaka (Cambodia)
Francis Forkey Doe (Liberia)

Perak (IN)

Hamizul Izaidi Zulkifili (Malaysia) 
Jad Noureddine (Lebanon) 
Firdaus Saiyadi (Malaysia) 

Perak (OUT)

Robert Cornthwaite (Australia)

PKNP FC (IN)

Faizzzwan Dorahim (Malaysia) 
Ahmad Sukri Ab Hamid (Malaysia) 
Kim Sang-woo (South Korea) 
Dany Karl Max (Chad) 
Alfred Okai Quaye (Ghana) (pending)

PKNP FC (OUT)

Yeon Gi-sung (South Korea)
Keo Sokpheng (Cambodia)
Luben Nikolov (Bulgaria)
Irwan Syazmin Wahab (Malaysia) 
G. Ganiesh (Malaysia) 
Dany Karl Max (Chad) (pending)

PKNS FC (IN)

Nik Shahrul Azim Ab Halim (Malaysia)
Bruno Mastos (Brazil) 

PKNS FC (OUT)

Jonatan Acosta (Argentina)

Selangor (OUT)

M. Tamil Maran (Malaysia)

Terengganu FC (IN)

Do Dong-hyun (South Korea) 

Terengganu FC (OUT)

Bruno Suzuki (Japan)