Four youths saved from Thai cave as efforts continue
Last Updated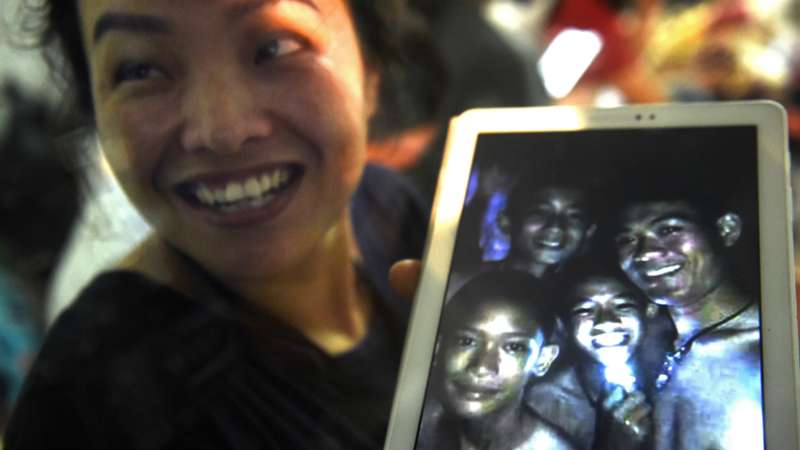 Getty Images
Thai authorities have confirmed that four members of the football team that was left stranded in a cave have now been rescued.
Wild Boar Academy have spent more than two weeks in the Tham Luang caves after being cut off from the exit during a visit by a sudden downpour.
Twelve youths aged from 11 to 16 were trapped, while a massive international rescue effort has been mounted including Thai Navy divers and foreign volunteers.
Now, while no further rescue efforts can be carried out on Sunday, there has been a breakthrough as the boys were retrieved.
Ambulances leave caves with first rescued Thai footballers

Two ambulances left the Tham Luang Caves in the northern Thailand province of Chiang Rai today, carrying the first boys rescued after two weeks of being trapped inside a cave The very best of luck to everyone involved 🙏 Credit: Ruptly

Posted by Goal.com on Sunday, 8 July 2018
"Today is the D-day. The boys are ready to face any challenges," rescue chief Narongsak Osottanakorn told reporters near the cave site. The first four rescued youths surfaced around 12pm GMT (7am ET) and were immediately taken to hospital to receive treatment.
Rescuers hope to extract the remaining eight over the next two days, although there are concerns that further monsoon rainfall will hamper efforts.
"A new storm is coming. If we wait and rain water comes in, our readiness will be lower than now," said Narongsak Osottanakorn, governor of Chiang Rai province.
"I confirm that the kids know about the mission and they are willing and ready to come out."
The story of the stranded youths has gone global, leading to an outpouring of support.
FIFA chief Gianni Infantino has pledged to invite the Wild Boar Academy to the World Cup final if they are well enough to make the trip to Russia on July 15.
"On behalf of the international football community, I would like to join you in expressing my deepest sympathies and support to the families of the players and coach, as well as my solidarity with the people of Thailand at this time of great concern," Infantino wrote in a FIFA statement.
"I hope that in some way our words of support may help bring them a little peace and courage in these difficult moments of uncertainty and concern.
"If, as we all hope, they are reunited with their families in the coming days and their health allows them to travel, FIFA would be delighted to invite them to attend the 2018 World Cup final in Moscow as our guests."