Premier League
Former Liverpool defender Carragher slams Man Utd's Lindelof after Tottenham thrashing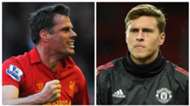 Former Liverpool defender Jamie Carragher has slammed Manchester United's Victor Lindelof, claiming that the Sweden international "should not be playing at this level".
The criticism followed United's embarrassing 3-0 defeat at home to Tottenham on Monday evening, just eight days after a 3-2 reversal away to Brighton in their second outing of the Premier League season.
Lindelof was partnered with Eric Bailly for United's trip to Sussex but the pair were widely mocked following their disappointing performances.
Both Lindelof and Bailly were subsequently dropped from Mourinho's starting XI to face Spurs at Old Trafford, though the former was introduced in place of Phil Jones after 58 minutes of play.
The 24-year-old did little to assure United fans, however, with Spurs running out 3-0 winners on the evening.
"I actually feel a bit sorry for him [Lindelof], he should not be playing at this level," Carragher said following the game.
"Phil Jones and Chris Smalling have been playing for a long time, and it [the mistakes] shouldn't be happening at this level."
Mourinho admitted in his post-match press conference that he was unsure of his best United back four and did little to back Lindelof, confirming instead that it would be "Smalling and one other" who will start in the club's trip to Burnley next time out.
Former Reds defender Gary Neville has called for a drastic improvement to defensive matters at Old Trafford, too, claiming that their mishaps at the back are "destroying the spirit of the team".
"The individual errors - you have no chance if you give away goals like that," Neville said on Sky Sports' Monday Night Football.
"And its the fact that they conceded such bad goals. Defensive errors put trepidation throughout the whole team.
"You lose that confidence and belief - and it's destroying the spirit of the team."
United's disastrous start to the 2018-19 campaign sees them sit 13th in the table after three games, six points behind current leaders Liverpool.