UEFA Champions League
Footballers are human beings - UEFA should not have played Dortmund game 24 hours after bus bombing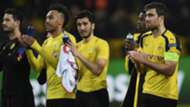 ---
COMMENT
---
"Some people believe football is a matter of life and death. I am very disappointed with that attitude… I can assure you it is much, much more important than that."
Legendary Liverpool manager Bill Shankly's quote pertaining to the depth of his love for the game is one of the most memorable that football has ever provided. It has adorned t-shirts and banners for time immemorial and continues to be parroted by supporters of the beautiful game on a daily basis.
But Shankly's words were taken all too literally by UEFA last week, and it was not the first time. Had the Scottish legend lived to see what happened at Dortmund last Tuesday, he would surely have been one of the first to ensure that life was considered first and football last.
'Nights are the worst, I can't sleep' - Burki
In a targeted attack, three bombs stuffed in a roadside hedge detonated as the Borussia Dortmund bus left their team hotel as they headed to the Westfalenstadion for their Champions League clash with Monaco. It is a matter of fortune alone that defender Marc Bartra's broken wrist was the most serious injury sustained in what was a terrifying, harrowing period for everybody on the scene.
Players, staff and witnesses alike will never, ever forget the sequence of events on Tuesday, April 11, 2017. Countless terror incidents littered across the pages of modern history have informed us of the world's mortality, and at the moment the explosions occurred in Dortmund it must have been the natural human instinct for those in the vicinity to persuade themselves they were about to become just another statistic of the bloody landscape of the early 21st century.
At that time everybody was focused on nothing other than human life, on the battle to help those caught in the blast and do what they could to ensure the best possible care.
But then UEFA decided that the Dortmund players who had sat on the bus and experienced what was so nearly the end of their lives would be okay to play the game just 22 hours on from the scheduled time.
Alba and Busquets visit Bartra
"UEFA was in touch with all parties on Wednesday and never received any information which suggested that any of the teams did not want to play," claimed the organisers in a statement.
UEFA claims that President Aleksander Ceferin was in constant contact with senior people involved in the decision-making process and insists that no one was forced to play if they did not want to. There were five representatives from Dortmund, as well as representatives from Monaco, UEFA and the police present during these discussions.
Regardless of this, UEFA made the wrong decision. UEFA should have taken the decision out of club hands. A consultation process is of course important but on this occasion the call should have been taken from them and the match rearranged when everyone could focus on the football, rather than the events that had come before.
"Players are people first and their emotional state must be taken into account. This comes before any other consideration," Andrew Orsatti, Head of Communications at World Players' Union, FIFPro, told Goal.
"We believe the incident was serious enough to warrant a longer delay than 24 hours, irrespective of the challenges it would have posed for travelling fans and to adjust the match calendar.
"A revision of this incident needs to be carried out together with FIFPro and other key stakeholders to create clear guidelines on how to act in such extreme circumstances."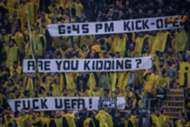 Ahead of this week's second leg in Monte Carlo, Dortmund boss Thomas Tuchel has castigated UEFA's handling of the events.
"We were informed by text message that UEFA was making this decision. We would have liked more time to take stock," he explained. "This gives you the feeling of impotence, that we have to keep functioning and nothing else matters. A decision made in Switzerland that concerns us directly: we will not forget it.
"It is a very bad feeling. A few minutes after this attack the only question that was asked was: 'Are you ready to play?' as if we had thrown a beer on our coach.
"There is a feeling of helplessness. The date was imposed on us. We weren't asked about playing the game. UEFA is eager to continue playing and, of course, we have to keep it going but we still want to be competitive. Every player has the right to deal with it in his way. The team did not feel in the mood in which you must be for such a game."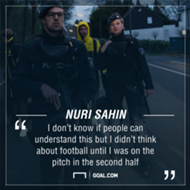 Tuchel's words followed a hugely emotional interview which ensued following the first leg, when Dortmund's Nuri Sahin told Norwegian TV interviewer Jan Aage Fjortoft: "It's hard to talk about. It's hard to find the right words. I don't wish anyone a feeling like this.
"I don't know if the people can understand this but until I was on the pitch in the second half, I didn't think about football to be honest because last night I didn't realise what happened. When I got home and my wife and son were waiting at the door, then I felt how lucky we were.
"I get goosebumps. When we were on the bus last night… I will never forget those faces in my life for sure.
"I know football is very important. We love football, we suffer with football, and I know we earn a lot of money and have a privileged life. But we are human beings and there is so much more than football in this world."
UEFA would do well to listen to that final sentence again and again and again until the message hits home. Footballers are, indeed, human beings. Just like the rest of us.