WTF
'A disgrace to sports' - Football reacts as Floyd Mayweather beats Conor McGregor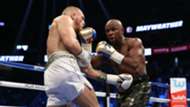 It may have been a fairly predicatable ending to one of the most anticipated and hyped boxing matches in recent memory, but Floyd Mayweather's 10th round TKO win over UFC star Conor McGregor has provoked controversy among fans. 
The Irish MMA star came out swinging, but couldn't keep his pace, with the experienced boxer taking over the fight in the middle rounds and cruising to a win, with the fight stopped before either fighter hit the canvas. 
The stoppage became a big talking point as social media reacted to the fight, and ex-Manchester United and Fiorentina player Giuseppe Rossi was left outraged by it. However, the forward was just one of many reactions to the big event - with the world's most expensive footballer Neymar, who recently met up with Mayweather, among them.
I wonder how much they talked before the fight and planned it all out. Disgrace to sports.

— GIUSEPPE ROSSI (@GiuseppeRossi22) August 27, 2017
Not surprised to wake up to the news. Surely that was the most likely outcome? The sport of Boxing retains its credibility with that result.

— michael owen (@themichaelowen) August 27, 2017
A post shared by Nj neymarjr (@neymarjr) on Aug 27, 2017 at 1:25am PDT
Tough performance with passion and heart from @TheNotoriousMMA. Respect #FloydMayweather! #goodshow #MayweathervMcgregor

— Holger Badstuber (@Badstuber) August 27, 2017
"Did you see Lewy's double today?!"#MayweatherMcGregor pic.twitter.com/ToqTJakqez

— FC Bayern US (@FCBayernUS) August 27, 2017
Still love #McGregor regardless of the result

— David Meyler (@DavidMeyler7) August 27, 2017
Come onnn @TheNotoriousMMA !!!

— Luke Shaw (@LukeShaw23) August 26, 2017
August 27, 2017
Meanwhile, former Newcastle player, and current beIN Sports football commentator was certainly impressed with what he saw. 
#MayweathervMcgregor #MacGregor stands tall but falls! A FURY of punches ends it! MAGESTEEERIAL BOTH LADS! GLADIATORIAL & MAGESTEEEERIAL!

— Ray Hudson (@RayHudson) August 27, 2017
Former USA international Eddie Johnson also showed a clear interest in the fight, celebrating Mayweather's win and going back and forth with fans on Twitter who thought McGregor was robbed.
50-0

— Eddie Johnson (@eddie_johnson7) August 27, 2017
Lol he couldn't stand up lol after the 7th round you clown https://t.co/A1nWTNCuvq

— Eddie Johnson (@eddie_johnson7) August 27, 2017
When people say, 'put him in a cage and see what happens.' pic.twitter.com/dBXUxIWArB

— Sydney Leroux Dwyer (@sydneyleroux) August 27, 2017
And while his takes weren't exactly in depth on the boxing side, Alexi Lalas had his eyes on the fight. 
What the hell is up with the cut of the shorts from McGregor? #boxingfashion

— Alexi Lalas (@AlexiLalas) August 27, 2017
One man who knows all about the worlds of football and boxing is Curtis Woodhouse, having traded boots for gloves in 2006, and he was delighted to see the 'boxer' come out on top.
Don't forget ya packed lunch pic.twitter.com/nDjaYG8Doq

— Curtis Woodhouse (@curtiswoodhous8) August 27, 2017