Transfers
Five South African youngsters sign for German clubs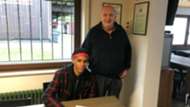 South African youngster Ethan Sandows has moved to Germany alongside Kaelin Kariem, Ansley Constance, Cheslin Kariem and Jesse Hendricks.
Sandows (18) has signed for SV Rott, and so did Kaelin Kariem, Chelsin Kariem and Hendricks, while Constance penned a deal with Herth Walheim.
Sandows, who is Tyroane's younger brother, is hoping to follow in the footsteps of his brother by making it big overseas.
Tyroane is currently playing for Brazilian Serie B club Figueirense as a winger, and was part of the South African side that competed in the 2016 Olympic Games in Rio.
Like his brother Tyroane, Ethan is also an attack-minded player, and he will fancy his chances at Rott, who are playing in the German sixth tier. 
The quintet jetted out to Europe this week to kickoff their football careers, and they will be expected to hit the ground running as soon as they familiarize themselves with their new surroundings.
Sandows impressed on trial with Rott recently, and so did his compatriots who impressed Walheim, with all of them signing long-term deals this week.
Rott and Walheim are both competing in the German sixth-tier, which is seen by many as the right platform for the starlets.