U17 World Cup
FIFA U-17 World Cup Exclusive: Luis Norton de Matos hopes India will make it to Quarter Finals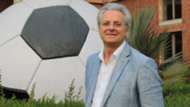 With the FIFA U-17 World Cup scheduled to kick start in the month of October, the Indian U-17 national side has begun their preparations in full swing. In an exclusive interview with Goal, newly appointed head coach Luis Norton de Matos discusses his assessment of the team, the progress so far, his ideology and much more.
Q:  Since your arrival in the team, what has been the 'new' philosophy in the squad?
LM: Firstly, I have tried to make the boys understand my way of working. This is very important as every coach has his own philosophy and through mine I know what I'm looking for on 6th October. In these seven months I must build a good team and for building the team, I must know every player very well. The first week in Goa was exactly to understand what can each player give to me in my way of playing.
Also, it was important for me to know if the players can play as I want. I am happy and lucky because I have my system of players. I have different options with players which I can use in my system. The first step we are doing is that we must confirm the players are in a good shape and put the ideas and philosophy into practice. The second step is the time until 15th May in Portugal and the third is in Spain. When we reach 1st July and finish all our work, we have our team ready and then four months to confirm our ideas.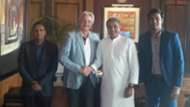 Q: It's been a month since you were appointed as the coach, how has been the response from the boys?
LM: The boys are responding to the philosophy very well. The group is very intelligent. I believe, in football, like other sports, you must first have intelligence. They have the motivation- they are representing themselves and the country. They always want to prove they are able of whatever I ask them to do. They are well disciplined, on and off the pitch. This group is professional and they have begun early and so in the future, I am sure they will be the future stars of Indian football.
Q: One major problem with the lads has been the lack of good results. What do you think is the reason behind this?
LM: The team must have a balance. If you score four goals but allow the opposition to score five as well, you lose. Hence, you must maintain equilibrium. The team perhaps has not scored a lot of goals but the opponents haven't been easy either. We must work on the concentration of when we have the occasion to score. German, English, Brazil players score a goal in just two occasions but here (Indian team), sometimes they need four or five occasions to score a goal.

What I like about the team currently is that they go towards the goal and create occasions. Through our playing, we are surely going to find occasions to score but the problem is in the concentration. We have time to build this offensive side of the team. In this situation we can't expect India to score a lot of goals against the opponents but we can prepare the boys for maintaining balance. If you have the possibility to go in quarter-finals, we need at least four points- a win and a draw. I don't care if it's 1-0 or 0-0, we need the four points! I know my balance between the attack and defense so it won't be a problem.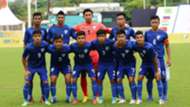 Q: Have the below par results taken a toll on the Young Cubs?
LM: I, as a coach, hate to lose in any conditions. But I understand that in the process, by playing such opponents, you make the boys known to what they shall face from 6th October. The country is hosting the World Cup for the first time and boys must understand that teams like Brazil, Spain, Germany, Nigeria are a level too high. We want to face high opponents to know which kind of mistakes we do and eventually correct those. Of course, I don't like to lose 4-0, 5-0 or 3-0 but there's a possibility (to learn from the losses) to build the team for the World Cup. For the World Cup, I'll change all the results during the seven months, to win the first game of the World Cup. The way we prepare the boys, I am sure they will play with a new mentality. 
Trevor Morgan hints at leaving East Bengal after derby defeat against Mohun Bagan
Q: With India being the hosts of U-17 World Cup, does that put pressure on the team or rather helps them with the home soil advantage?
LM: I think the boys have understood how lucky they are to play at home. They know the responsibilities. I keep the pressure at hold, I don't talk about it. The pressure will come, perhaps a week before the start of October. Until then, there's no special pressure. All the boys are going to play the World Cup in their minds, before the actual tournament kick starts. They dream about it. They are going to play 300%. I think there's a positive energy in that. But when you enter a stadium of 40,000 people, there will be moments of pressure. But here, we will play with 12 players, 11 of us and the crowd's support which will be our 12th man.
Q: Are you satisfied with the facilities provided to you?
LM: Yes, I am. That's a good surprise for a European like me to get in contact with professionals here. The All India Football Federation (AIFF) has given all that we need. I am very satisfied. I think I can bring some experience too as I know which specific materials are needed. Everything has been very professional. I have no complaints.
Sanjoy Sen - Broke the myth that Mohun Bagan cannnot win in Siliguri
Q: In what ways shall the exposure trip to Europe benefit the boys?
LM: We had five weeks in Goa to prepare for the exposure visit. We have five very difficult games ahead. The more difficult the rivals are, the more concentrated we must be. This is our reality. I don't want easy friendly games. I want the boys to face difficult opponents and work on it with concentration. I was worried that the boys can't progress but they surely can. In one month, they have progressed a lot.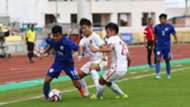 Q: Apart from the U-17 team of Italy and Portugal, India is most likely face the PSG U-17 team. What is your assessment of opponents PSG?
LM: We are working with the federation in this aspect. There hasn't been 100% confirmation but we have four trips for sure- France, Italy, Hungary and Spain.
Q: There was news that the young cubs could also face the national team of Hungary and Austria, so is there any update on the same?
LM: Hungary is confirmed but Austria is not confirmed. Until May 27, we are sure of visiting Portugal, Italy and France. After that, we go to Hungary but it can have some modifications. We have Spain also for the last 15 days of June. We are also going to play Atletico Madrid and other two Spanish teams as well but I don't know which ones exactly because we are yet to confirm.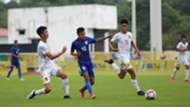 Q: Lastly, talking realistically, what will be your target for the World Cup?
LM: As a coach I would like a lot that we can reach the quarter finals. I am very realistic because India, in this World Cup, is one of weakest teams that are going to participate. I think my first realist target is to reduce the gap (in terms of standard of play) between the rivals and us. The World Cup is the first step in the development in the country. But for me, what's more important is what shall happen in the future, after the end of the tournament.

This team, for sure, is going to be much stronger when they play U-20. These players, in four-five years, will play for the national team. I was very satisfied with the success of Stephen (Constantine) against Myanmar because he built a new team with young players. These players (U-17 team), when they reach the age of 20, will be much stronger than the players who are 20 right now, because of their experience.
Road to U-17 World Cup: India Colts' performance overview
This U-17 team has possibilities of bringing millions of Indians who are as young as 12-13 years old, to football. The profile of the players in India is similar to the European players- they need competition, they need organizations, they need to be guided.
I have been with national teams and I can say some players from our Indian squad have the same level as a Portuguese or Spanish player would have- in quality, in technicality, in skills. The difference is the Portuguese or Spanish players start at as early as eight years old- when they reach the age of 16, they already have 8 years of experience in the competitions. This is why there's a gap between the two. If we can reduce this, it will be unreal. If we can continue the work, it'll be a big victory. We need to have our feet on the floor and think of positive building of football in India.