Hearts of Oak
Fiamenyo eyes return to Ghana Premier League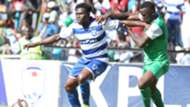 Former
Hearts
of Oak striker Gilbert Fiamenyo has admitted his readiness to return to the
Ghana
Premier League in future.
The 26-year-old was a cult hero at the Accra-based outfit before joining AFC
Leopards
in 2016, but couldn't replicate his fine form at the Kenyan club, subsequently moving on to sign for Libyan team Al Nasr, whose contract he terminated few months ago.
"I am currently a free agent and ready to play for any Ghanaian club who may need my services when the league resumes," Fiamenyo told Top FM.
"I'm still young and have the potential to achieve my aims as a footballer. Although, things haven't gone as initially planned, such is life and only losers quit when in difficult situation.
"I miss Ghana Premier League. I have nostalgia for Ghanaian soccer and hopes the top-flight returns very soon for players to have the opportunity to play every weekend," he added.
Fiamenyo previously had stint with Heart of Lions in Ghana.