Manchester United
Fellaini: Everything still possible for Man Utd despite slow start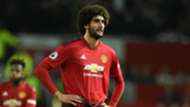 Marouane Fellaini retains full belief in Manchester United's ability to challenge for top honours, with "everything possible" in the Premier League.
The Red Devils have made an inconsistent start to their 2018-19 campaign, with two victories sandwiching back-to-back defeats.
A welcome win over Burnley in their latest outing has lifted them back into the top-half of the table, with there only three teams in the English top-flight still boasting a 100 per cent record.
Fellaini sees no reason why United cannot work their way back into title contention as they continue to look to the future and ignore those who want to dwell on the past.
The Belgium international told the club's official website: "The season is long and it's only the beginning of the season.
"In the last two years, we started very well. This season, a bit less, but the season is long so let's keep going.
"In the Premier League, everything is possible so let's see. Like I said, the next game is more important than this one."
Having returned to winning ways, United must now wait until September 15 for their next outing as domestic football takes a backseat during an international break.
Fellaini will be hoping to figure when Jose Mourinho's side return to action away at Watford, with the 30-year-old having come back into the side to play an important midfield role at Turf Moor.
He added: "The manager put me in the team and I gave everything for the team, but the most important thing is the three points.
"The manager knows my qualities so he knows how I can help the team. I do it with pleasure. Everybody has to help the team and give everything.
"I know what I have to do. I have certain experience, 10 years in the Premier League.
"When he gives me a chance, I try to give everything. The whole team played well and that's the most important thing."