Premier League
Fantasy Football: Kane, Hazard and other Sunday superstars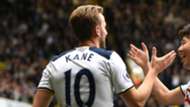 Yesterday's article was all about sneaky options and how to maximise differentials. That is definitely a wise strategy but sometimes the most obvious choice is the one right in front of you.
So, if things go sideways for you on Saturday, don't worry. These Sunday Stars should set things right.
Download Goal Fantasy Football on iOS or Android now and win great prizes every week!
Harry Kane (Forward, Tottenham, Price: 9.3, Ownership: 13.85%)
The most surprising thing about Kane's one assist performance against Crystal Palace is that it wasn't a goal. Why is that? Well, because the Tottenham talisman has the best goal rate in London derbies - ever - with 23 goals in 30 games in all competitions.
This is extremely relevant as he will come up against hated rivals Arsenal on Sunday. Kane has five goals in his last five matches against Arsene Wenger's men and it's likely he repeats the feat this weekend. 
Eden Hazard (Midfielder, Chelsea, Price: 8.7, Ownership 48.61%) 
Hazard's return to form is one of the main reasons Chelsea look set to win the Premier League title this season. His fifteen goals make him the second highest scorer among midfielders in both goals and fantasy points.
This matchup with Everton would have been tougher if Seamus Coleman was fit but, seeing as he's profoundly not, Hazard should have plenty of space and joy on the left on Sunday.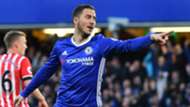 Kevin De Bruyne (Midfielder, Manchester City, Price: 8.3, Ownership: 24.15%)
His role has been slightly diminished since the arrival of Pep Guardiola, but he is still one of the best creators in the league. No one has more assists than his four in the last five matches and, with Sergio Aguero seemingly available for the weekend, it's easy to see him racking up more.
Middlesbrough had a very good defence for most of the season but that is certainly not the case any more as their ten conceded goals over the past 5 matches is worst in the league.
David de Gea (Goalkeeper, Manchester United, Price: 7.0, Ownership: 39.28%)
The Spaniard's inclusion in the PFA Team of the Year was a surprise but he has been terrific in fantasy this season. He sits behind Manchester United's second-best ranked defence who haven't even allowed a shot on target in either of their last two matches.
While it's always possible for Gylfi Sigurdsson to whip in a free kick or corner that ends up in the back of the net, our money is on Jose Mourinho's men.