Gaming
Fantasy Football: Firmino, Moses and Valencia get adjusted positions for the new season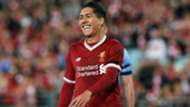 Hello and welcome to our coverage of the coming 2017/18 Goal Fantasy Premier League game.
The transfer window is open, every player value has been updated in the new version of the mobile app and we've got a very special top prize to announce ahead of the new campaign getting underway.
The player topping the leaderboard at the end of thse season will win a trip to a top sporting event worth £5,000. There's also a £500 Amazon voucher up for grabs for second place and £250 for the third place finisher.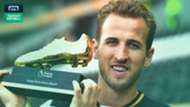 This season sees the other prize pool boosted another notch too, with players able to win a £150 Amazon voucher for topping the weekly chart, while those who perform best over a month will pick up a 4K Smart TV worth over £500 as their reward. Prizes are open to UK residents over the age of 18..
There is plenty to get to throughout the pre-season but we will start off with position changes. Every year players are moved around within their team which alters their fantasy value for better or worse. Below are the best fantasy options who have changed position during the, admittedly brief, off-season.
Download Goal Fantasy Football on iOS or Android now and win great prizes every week!
Roberto Firmino
2016/17: Midfielder, Liverpool, £8.2m
2017/18: Forward, Liverpool, £7.8m
The Brazilian played up front for Liverpool 20 times last season and, understandably, is now listed as a forward. The addition of Mohamed Salah and the lack of rumours regarding incoming strikers mean Firmino is likely to lead the line for the majority of the 2017/18 season.
The 25-year-old would have lost 11 points had he been listed as a forward in 2016/17 but the price drop seems to have already compensated for that. Despite being part of what will surely be a prolific attack, it may be better to take a wait and see approach with Firmino who has a fairly tough schedule to start to the season and ended last year just 18th in goals.
Victor Moses
2016/17: Midfielder, Chelsea, £5.2m
2017/18: Defender, Chelsea, £6.3m
Victor Moses' shift to right wing-back at the beginning of last season was surprising and the fact that he became one of the best in the league even moreso. That shift, while not particularly helpful in Fantasy last season, will be huge this year as he will now earn five points for every Chelsea clean sheet (16 last season).
Moses ended up finishing 43rd among midfielders in Fantasy points last term but would have finished as the fourth highest scoring defender, behind only a trio of his Chelsea team-mates. The bump in price is steep but the fact that he's only 10th in price makes him a worthwhile investment to start the year.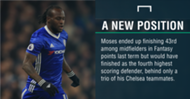 James Milner
2016/17: Midfielder, Liverpool, £6.2m
2017/18: Defender, Liverpool, £6.0m
When Milner joined Liverpool in 2015 he probably didn't imagine that he would end up as their first choice… left back. Nevertheless, that's exactly what happened with the Englishman starting 35 of 38 possible matches.
Like Moses, Milner would have massively benefitted from being listed as a defender last season. He would have led the position in goals despite all of them coming from the penalty spot but therein lies the problem. Do you think Milner takes penalties for Liverpool next season? Better yet, do you think Liverpool are going to head into the season with Milner as their best option at left back? Probably not.
Antonio Valencia
2016/17: Midfielder, Manchester United, £4.9m
2017/18: Defender, Manchester United, £6.2m
Valencia has all the makings of a devastating fantasy wingback but, like the pair listed above, instead was listed as a midfielder last season. Being part of a Jose Mourinho defence is always a nice boost towards your fantasy value as every Premier League team he's led has finished top two in goals allowed.
So the clean sheets will likely be there for Manchester United, but will the Ecuadorian be on the pitch when they happen? At time of writing, Valencia is still the best option at the position, but the fact he only started three of Manchester United's last 10 matches certainly raises a big red flag.
Andre Ayew
2016/17: Midfielder, West Ham, £6.8m
2017/18: Forward, West Ham, £6.2m
After only earning five starts in the first half of the season the Ghanaian finally nailed down a place by match week 26. From that point on, he took part in 8 goals, scoring five and assisting three more.
His best position under Slaven Bilic is still up in the air, but the constant injury struggles of Andy Carroll and Diafra Sakho may provide Ayew with more than a few starts up front. If he can come anywhere near his terrific 2015/16 numbers from when he was at Swansea (12 goals, 5 assits), £6.2m is a steal.