Fahid Ben Khalfallah
Fahid Ben Khalfallah makes surprise football return with NPL Victoria side Nunawading City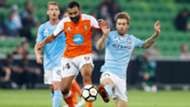 After announcing his footballing retirement at the end of the A-League season with Brisbane Roar, Fahid Ben Khalfallah has quickly been lured back to the pitch debuting for Victorian outfit Nunawading City FC on Saturday.
The club located in Forest Hill play in the National Premier Leagues Victoria 2 and currently sit bottom of the Victoria East conference with two wins from their first 12 games.
Khalfallah did announce his retirement from professional football after Brisbane lost 2-0 to Melbourne City in the A-League finals this past season.
The 35-year-old Tunisian arrived in Australia with Melbourne Victory in 2014 before spending the past two campaigns with the Roar.
Originally making his retirement plans known immediately after Brisbane's finals exit, Khalfallah told reporters he needed a change.
"I just want to stop now, I don't want to play anymore," Khalfallah said at the time. 
"I enjoyed it, I loved it and that's it. Sometimes it's time to stop and do something else so we'll see."
Though Nunawading is only a semi-professional outfit, it seems the former A-League championship winner just can't resist playing a little longer.