Monaco
Fabinho leaves door open on possible Premier League move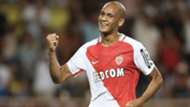 Monaco star Fabinho has left the door open on a potential move to the Premier League, admitting that he could "maybe one day" play in England.
The 23-year-old Brazil international has been linked with a number of clubs in England, including Manchester United and Arsenal, as well as La Liga giants Barcelona.
Pep: Monaco perfect for 'killer' Falcao
However, while conceding the allure of England's top tier, the defender stressed that he is currently content playing for the Ligue 1 challengers.
"I know my name was linked with more than one English club but I am happy at Monaco at the moment," Fabinho told reporters ahead of his side's Champions League clash with Manchester City. 
"I have a contract until 2021, but the Premier league is a league that interests me and maybe one day I will come and play here."
Fabinho's father Joao revealed earlier this month that his son had been in talks with Man United, Man City, Arsenal and Barcelona.
In an interview with French television show J+1, he said: "We like Manchester United and Mourinho's work, but we have a soft spot for Manchester City."
Fabinho will face off against one potential future employer on Tuesday when Monaco take on Pep Guardiola's faltering Man City at the Etihad.