South Africa
EXTRA TIME: Watch South Africans support Banyana in Chile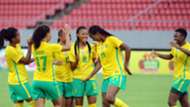 Banyana Banyana lost the first game against Chile 2-1, and these two games were excellent preparation for next month's Africa Women's Cup of Nations tournament in Ghana.
Chile will participate at the 2019 Fifa Women's World Cup for the first time. Banyana will need to finish in the top three places of the Awcon to join them.
The draw in Santiago showed that Banyana is improving their performances when playing abroad.
"Chile broke South Africans' hearts when they scored the equaliser – again from second half substitute Javier Grez's header coming from a free kick. Banyana Banyana seem to be struggling when it comes to defending set-pieces as this is the third header to be scored by Chile in two games," wrote Safa media.
You can watch a video from Banyana Banyana's official Twitter where you can see a number of South African's supporting the team in Chile.
There's also a link where you can listen to Banyana coach Desiree Ellis' view of the Chile tour.
Thank you to our South African residents in Chile who came out to support @Banyana_Banyana! @SAFA_net @SAFA_net @TemogeloTT pic.twitter.com/JJchGdp35b

— Official SasolLeague (@SasolLeague) October 10, 2018
Action from the match between @Banyana_Banyana and Chile that took place in Santiago, Chile in the early hours of this morning
It ended 2-2 with Refiloe Jane and Thembi Kgatlana scoring South Africa's goals @SAFA_net @SasolLeague @SasolSA pic.twitter.com/bEKa7iuNT1

— Banyana_Banyana (@Banyana_Banyana) October 10, 2018
Listen: Banyana Banyana head coach Desiree Ellis talks about the tour of Chile which ended in a 2-2 draw https://t.co/sghuo57oPO via @SAFA_net @Banyana_Banyana @SasolLeague @SasolSA

— Banyana_Banyana (@Banyana_Banyana) October 10, 2018