WTF
EXTRA TIME: Van Wyk's critical of Jose Mourinho's Manchester United tactics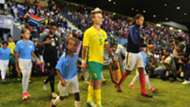 The Houston Dash ladies team player doesn't understand why Mourinho was sitting back against Pep Guardiola's Manchester City.
Perhaps she hasn't seen enough of Mourinho because 'sitting back' and waiting for mistakes is his middle name. 
Van Wyk knows that. She's just hoping for more from one of the most famous coaches in the world. More adventure going forward. 
The best form of defence is to attack. Time to listen to your female fans (or critics), Jose.
Are we seriously going to defend the whole match??? I understand closing down spaces but sitting back is just giving City more opportunies

— Janine Van Wyk (@Janinevanwyk5) April 27, 2017
Manchester Derby kick off just over an hour away. Come on UNITED @ManUtd pic.twitter.com/XxYnhRViyY

— Janine Van Wyk (@Janinevanwyk5) April 27, 2017