WTF
EXTRA TIME: Usain Bolt gearing up for visit to Mamelodi Sundowns headquarters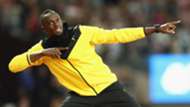 One fan said it all. Usain Bolt probably came to South Africa on foot.
We can forget that he's using a helicopter to touch down for his fans. That's more awesome than running into sports fields!
Bolt is visiting Premier Soccer League giants Mamelodi Sundowns where he will be addressing the media on Monday afternoon, but he first stopped in the Mother City. 
While the 31-year-old previously expressed his desire to one day play football at the highest level, it's unclear at this stage if the Brazilians are willing to offer him the opportunity to kick start his football career, but all will be revealed at the start of the week. 
Good day @SunMetZA #CapeTown pic.twitter.com/YZfzXsboqh

— Usain St. Leo Bolt (@usainbolt) January 27, 2018
Touch down! @usainbolt has just landed at Kenilworth Racecourse. Africa's Richest Race Day has reached another level. #NextVictory #DareWinCelebrate. pic.twitter.com/ZH4taDOqGB

— Maison Mumm SA (@GHMUMMSA) January 27, 2018
CapeTown from the helicopter view pic.twitter.com/DmF0OtnV3l

— Usain St. Leo Bolt (@usainbolt) January 27, 2018
#UsainBolt Adressing media at the Table Bay Hotel. KB pic.twitter.com/f1rr4vYvn8

— EWN Reporter (@ewnreporter) January 27, 2018
Only way to roll when in the motherland  https://t.co/JqpkyuCkED

— Usain St. Leo Bolt (@usainbolt) January 27, 2018
The legendary #UsainBolt arriving on course today #ItsARush #SummerOfChampions #Mumm #SunMet pic.twitter.com/eM1LlxpFK3

— RACING (@Racing_ItsARush) January 27, 2018
Good company @DemiLeighNP pic.twitter.com/OoGSZW1jAW

— Usain St. Leo Bolt (@usainbolt) January 27, 2018
Didn't know Usain Bolt is in the country.

He prolly came on foot. #SunMet

— Ona (@kagisolatane) January 27, 2018
In South Of Africa #SunMet2018 @ Cape Town, Western Cape https://t.co/MtEcYedwTA

— Usain St. Leo Bolt (@usainbolt) January 27, 2018
THE INTERVIEW WAS SOMETHING OVER 5 MINUTES,BUT THE MOMENT WAS TIMELSS.TNAX @GHMUMM AND @usainbolt pic.twitter.com/ZmCkyhZsKB

— siyabonga ngwekazi (@scoopmakhathini) January 27, 2018