WTF
EXTRA TIME: The Khune Legacy Tournament and the best of South African Twitter on Good Friday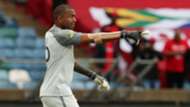 Looking through some of the best Tweets from South African football on Good Friday, we find some team's are relaxed while others are still hard at work.
It's particularly a busy time for youth football as Kaizer Chiefs star Itumeleng Khune has his Khune Legacy Tournament in Soweto.
Khune posted a video from the youth action below. There's also a wonderful song sung by Bloemfontein Celtic's youngsters during the Bayhill Premier Cup.
In a senior team training video, former Bafana Bafana midfielder Eric Tinkler is proving that he still has his skills on the field with his Maritzburg United players. Watch him excel at the crossbar challenge.
Finally, there's a callout for development football expert Farouk Khan to return to Kaizer Chiefs. Do you also want him back at Amakhosi's coaching team?
Enjoy the best of Twitter and the rest of your Good Friday.
#KhuneLegacyTournament #WeRiseByLiftingOthers ⚽️ #SupportedBy @danup_sa 😋 @khunelegacytournament pic.twitter.com/cihjF7hMeY

— IIKHUNE3216 (@IIKHUNE_32_16) April 19, 2019
"Ndiphum' ekuseni ndishiy' abazali" 🔥🔥🔥

I left at home early leaving the parents behind, is what the lads from @ProjPlaySA and @Bloem_Celtic were singing before their match ⚽#BayhillPremierCup2019 #BPC2019 pic.twitter.com/vLc0zzsWp4

— Lonwabo Marele (@LobzMarele) April 19, 2019
Please Malume Please @FaroukKhan9 come back 🙏🏾🤲🏾🥺😩 i'll make a special dua(prayer) tomorrow just to have you back at #KaizerChiefs pic.twitter.com/nEiqZhK4VJ

— Yusuf stemela (@Stemelayusuf) April 18, 2019
🎯 🥅

Coach Tinkler's still got it!

Watch as he smashes the crossbar from a distance!

He believes, #WeBelieve.#WeAreUnited pic.twitter.com/mlBZD1tUze

— Maritzburg United FC (@MaritzburgUtd) April 19, 2019
Wishing you a BLESSED, JOYFUL & PEACEFUL Easter Weekend.
Please remember to be safe on the roads and 🛣️ @_ArriveAlive.

💚 #LoveSiwelele
✊🏾 #SiweleleSaMasele
🐰 #EasterWeekend pic.twitter.com/tB9NIu4z5Q

— Bloemfontein Celtic (@Bloem_Celtic) April 19, 2019