Chelsea
EXTRA TIME: South African fans say goodbye to Gianfranco Zola amid Chelsea rumours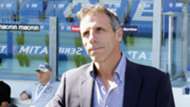 The Chelsea legend Gianfranco Zola was providing analysis on the 2018 Fifa World Cup on Tuesday, before it was revealed that he has to deal with a sudden offer in Europe.
This got the rumours flowing that Zola is about to discuss a possible coaching position at Chelsea. The talk is that he could assist former Napoli boss Maurizio Sarri at Chelsea.
Zola discussed his next move on SuperSport, and here's how South African fans reacted to the news on Twitter.
It was an absolute pleasure listening to Gianfranco's top-notch analysis of games.
Can't wait to see him as a manager @robertmarawa #SSFootball

— 🇩🇪✴DieMannschaft✴🇩🇪 (@ZiuQSouL) June 19, 2018
So that's it then - @robertmarawa has just bade #Zola farewell on @SuperSportTV. He's flying to England tomorrow. Guess it confirms #Sarri is taking over the management reins from #Conte.

Thank you Antonio Conte. Will forever love you. I'm so emotional right now... #CFC

— Time Mthokozis Gumbo (@TimeLEG_ZW) June 19, 2018
Gianfranco Zola was so insightful and a pleasure to watch...Thank him on behalf of all South Africans @robertmarawa

— Sherahn Hendricks (@sherahn) June 19, 2018
Gianfranco Zola leaves the Supersport WC team for urgent business in London. Maurizio Sarri's assistant coach?

— Mohamed Wehliye (@WehliyeMohamed) June 19, 2018
Gianfranco Zola on SuperSport's pannel is just incredible. Love his analysis.

— Rossé Marrai-Ricco (@RossellaMarrai) June 17, 2018
Gianfranco Zola leaving SuperSport!?! Definitely coming to Chelsea

— Melusi🇧🇪 (@1Melusi) June 19, 2018
#SuperSport confirms #zola heading back to Europe, could the saga finally be over @thehonestnick ? #sarri #zola @ChelseaFC #cfc #ktbffh

— Garth Cupido (@garthcupido1) June 19, 2018
Zola: "There is a lot of rumours about me at the moment and nothing has happened. And we'll see what happens in the future.

"I don't know. I was afraid you were going to ask me this. Really, I don't know.
[SuperSport]

— Chelsea (@ouggi) June 20, 2018
Gianfranco Zola said his goodbyes on Supersport (Cable Sports Channel) in South Africa after the Poland vs Senegal Game. He is leaving South Africa tonight to travel back to London. According to his agent, Zola's idols are Guardiola and Sarri. pic.twitter.com/Lkehk9tfQX

— Nouman (@nomifooty) June 19, 2018
Robert Maruwa just bid farewell to Zola on Supersport. Conte is out, My God never sleeps.

— OG. (@OGee_) June 19, 2018