Jomo Cosmos
EXTRA TIME: Safpu raises outstanding salaries problem at Jomo Cosmos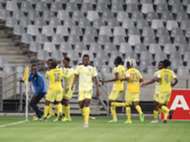 There's a dispute between them and Jomo Cosmos regarding player's salaries. You can watch the videos for yourself and decide what's going on.
We also added Tweet replies from concerned fans on the matter.
Jomo Cosmos players were locked inside the training premises to prevent them to interact with the union with regards to 3 months outstanding salaries and they have unlawfully terminated 3 of its employees contracts because they could not keep quite about the situation. pic.twitter.com/TWPXSjoQPW

— SAFPU (@SAFPU_Official) August 4, 2018
But what are PSL and Safa doing about this thing? Surely PSL should be charging this clubs for bringing the league into disrepute by not delivering on their obligation of paying salaries of players.

— Kabelo Ramokoka (@kabzar) August 4, 2018
Unless there's another side of facts that we don't know.

— Mnira (@MMadayile) August 4, 2018
We want to see action

— Vincent Tseka (@tsekav) August 4, 2018
But it's standard practice that in the south, players don't get paid for June and July?

— Mojalefa L Mathebula (@MLMathebula) August 4, 2018
SAFPU addressing players over unpaid salaries at the Jomo Cosmos training grounds, where gates were locked by the club in an attempt to prevent the Union from engaging with the players. Sad day for football where players are treated like criminals for fighting for their rights!👎 pic.twitter.com/gwgFfCfycY

— SAFPU (@SAFPU_Official) August 6, 2018
Jomo Cosmos chairman and coach Jomo Sono has since responded to these allegations while admitting that the club owes its players salaries for the month of May and June.