WTF
EXTRA TIME: How South Africa reacted to Serena Williams drama in US Open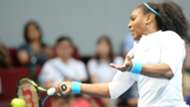 American tennis star Serena Williams lost to Japan's Naomi Osaka in the US Open ladies final on Saturday.
All the talk on social media was about Williams' emotional outburst and whether her behaviour was acceptable or not.
Here's how South African sports fans got behind the tennis legend, including top SA football anchor Robert Marawa.
More drama here!! @serenawilliams NOT taking any nonsense from the Umpire!!#USOpen pic.twitter.com/EwDd6rhT4j

— robertmarawa (@robertmarawa) September 8, 2018
Champions don't act like that! Bad bad example for Naomi who handled the outburst and tantrums like an adult

— Clara Joubert vdBerg (@ClaraJJoubert) September 8, 2018
And ur John McEnroe was conducting Sunday School classes I guess!!

U will NEVER understand her bigger fight!! NEVER!!

— robertmarawa (@robertmarawa) September 8, 2018
Everyone should listen to this from Serena Williams. pic.twitter.com/TF03dhpq2P

— Cameron Cox (@CamCox12) September 8, 2018
People will never understand if you worked hard for something. Rather speak the truth then the untruth especially if you worked so hard for it. People are quick to put clichés & to generalise on certain groups of people.

— Talker Boost (@talker_boost) September 9, 2018
September 9, 2018
From boos to cheers. An emotional and powerful moment for Naomi Osaka and Serena Williams at the US Open podium.  pic.twitter.com/oTg6SORjXe

— ESPN (@espn) September 8, 2018
In the heat of the moment Serena let her emotions get the better of her...she could have dealt with the situation much better.. she is and will always be my number 1 tennis player...my champion 

— Modiri Seate (@modiri_seate) September 8, 2018
The Pride of 🇯🇵!@Naomi_Osaka_ defeats Serena Williams 6-2, 6-4 to become the first Japanese player to win a Grand Slam singles title!#USOpen pic.twitter.com/sNilrZOaNU

— US Open Tennis (@usopen) September 8, 2018
September 8, 2018
How can the umpire punish Serena for allegedly being coached during the final, yet Rafa last night clearly received hand signals from his box when serving?? Am I missing something??

— Mr Jacobs (@Luqmaan_CFC) September 8, 2018
The umpire messing up a bytful game

— Mzu (@bucleod) September 8, 2018