UEFA Champions League
EXTRA TIME: How South Africa reacted to Real Madrid beating Liverpool in the UCL final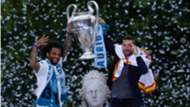 Back then it was called the European Champions Cup, but it's the same competition. It was made more difficult with more top teams from the leading nations participating. 
No team's won it twice in a row in this format, so it's been an incredible achievement for Real Madrid to do it three times in a row.
They beat Liverpool 3-1 on the night, thanks to two goalkeeper errors by Loris Karius on Saturday night.
Here's how the South African football fraternity and fans reacted on Twitter.
What can I say mara hee. Meeting a legend and my team wins. I'm Happy shem https://t.co/pBJipJ2Qoa pic.twitter.com/f8opCeZDvk

— R Letsholonyane (@reneilwe06) May 26, 2018
The most hated man on earth right now rt if u agree. #UCLFinal2018 pic.twitter.com/ENxXZZz8z3

— Rizwan malik (@WhY_s00_serious) May 26, 2018
Congratulations to the History makers..! The number one club team in the world (wether you agree or not ..! )it's a fact..!
Champions of Champions..!!!  Congratulations you Champs..!!#fromAbarca&CityFan pic.twitter.com/vRJgkcE78S

— Amanda toki Dlamini (@Amanda_Dlamini9) May 27, 2018
Worth watching again...Gareth Bale #UCLfinal pic.twitter.com/8qfJ8LNuCK

— SuperSport (@SuperSportTV) May 27, 2018
Don't want to forget to wish my friend @DaniCarvajal92 and @MoSalah a speedy recovery. Hope to see both at the world cup!

— Toni Kroos (@ToniKroos) May 27, 2018
I'm the furthest thing from a Liverpool fan, but I'm very appreciative of what Mane and Salah have done for Africa this year @robertmarawa

— Sashin Gonzalez (@SashGonzalez) May 27, 2018
Haven't really slept until now... the scenes are still running through my head again and again... I'm infinitely sorry to my teammates, for you fans, and for all the staff. I know that I messed it up with the two mistakes and let you all down... pic.twitter.com/w9GixPiQDC

— Loris Karius (@LorisKarius) May 27, 2018
Translation: "A picture of everyone who defended this filth and said it was originally unintentional, @Cristiano's looks and the smile of #Ramos exposed them"  https://t.co/3L5xDg2kdI

— Neal Collins (@nealcol) May 28, 2018
All respect I had for Ramos and Real just dropped to 0%

— OPTIMUS PRIME (@L_Moabelo) May 27, 2018


Great sportsmanship by @Cristiano Ronaldo

Get well soon, @MoSalah! pic.twitter.com/EyeX7DqOyx

— FIFA World Cup  (@FIFAWorldCup) May 26, 2018
The Party poopers staring line up pic.twitter.com/fiA4ide2rT

— Marks Maponyane (@MarksMaponyane) May 26, 2018
Cant wait for this clash later today
Who will be crowned Champions?

RT - Real Madrid
FAV - Liverpool #UCLfinal pic.twitter.com/K5Hx0MpYXs

— Janine Van Wyk (@Janinevanwyk5) May 26, 2018
Born to make history @realmadrid @adidasfootball #HereToCreate #createdwithadidas pic.twitter.com/eDXkBScK6g

— Karim Benzema (@Benzema) May 26, 2018