WTF
EXTRA TIME: Watch Ajax Cape Town youth players benefit from Amsterdam tour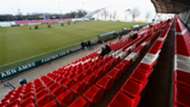 If you thought getting paid so much to play football is a dream come true, don't forget the other benefits of the game.
Even as youngsters outside the first team, Ajax Cape Town's teenage side, Young Ajax is enjoying a tour of Holland right now.
Check out their videos riding through the canals of Amsterdam, as well as a photo of meeting legends such as Edwin Van der Sar. We wonder who the former goalkeeper is going to support when United meet Ajax in the Europa League final on Wednesday night.
Whatever the case, Young Ajax is in the right city to experience a great following of the game.
How about this for training facilities? Watch the youngsters train in state of the art facilities. 
Let's hope a few of our kids catch the eye in Amsterdam, and we produce another Ajax starlet.
Few training pics from within @AFCAjax incredible training facilities in Amsterdam #YoungAjax #NoYouthNoFuture #WeAreAjaxCT pic.twitter.com/iCv4FsLlgw

— Ajax Cape Town (@ajaxcapetown) May 23, 2017
Indoor Training at De Toekomst in Amsterdam this morning
#YoungAjax #NoYouthNoFuture #WeAreAjaxCT pic.twitter.com/w7tB2dxZqj

— Ajax Cape Town (@ajaxcapetown) May 23, 2017
#YoungAjax in full voice ahead of training in Amsterdam this morning #WeAreAjaxCT#NoYouthNoFuture pic.twitter.com/VBfUXtA3nD

— Ajax Cape Town (@ajaxcapetown) May 23, 2017
Our goalkeepers with Ajax Amsterdam and Manchester United legend, Edwin van der Sar #YoungAjax pic.twitter.com/d88j2evU93

— Ajax Cape Town (@ajaxcapetown) May 24, 2017
Boat trip on the canals #YoungAjax doing some sightseeing in Amsterdam. #NoYouthNoFuture

❌❌❌ pic.twitter.com/R2dj8XlSmh

— Ajax Cape Town (@ajaxcapetown) May 23, 2017