Chelsea
Eden Hazard a true genius and Chelsea must pay him Galactico wages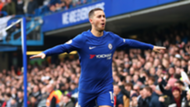 Eden Hazard is showing himself to be a true genius in a Chelsea shirt after another masterclass performance against Newcastle United where he provided the breakthrough after a slow start. 
Chelsea went 1-0 down to a Dwight Gayle goal after a poor start but Hazard's strike, just nine minutes later, calmed the nerves of Antonio Conte's side against former manager Rafa Benitez.
Hazard's first goal was his seventh of the season, an impressive figure considering he missed all of August with a broken ankle. In September, he was still playing himself back into full fitness with substitute and cup appearances but he's also up to six assists this season. 
He's contributed to more than a goal every 90 minutes this season and has struck up a great partnership with the new No.9, Alvaro Morata, who made it 2-1 with a poacher's finish from a bullet Victor Moses cross.
Hazard was the main threat throughout the early kick-off and he matched Chelsea legend Gianfranco Zola with 80 goals as he netted a penalty for the club in the second half to make it a3-1 victory. It also meant that the No.10 now has more goals versus Newcastle than any other English side, with his sixth goal in eight appearances.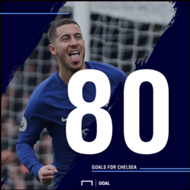 Conte inherited an outstanding talent after taking over at Chelsea and the side is being built around the Belgium captain. In the 3-5-2 formation, Hazard is being pushed up front alongside Morata and it is meaning that he can forget his defensive duties and focus on making teams pay. 
Ciaran Clark's cynical foul on Hazard earned him a yellow card in a scene we see all too often: a player who can't deal with the 26-year-old looking outside the laws of the game to stop him. 
Hazard had a penalty shout and a long-range strike within a minute of each other in the 56th minute that could have killed the game early on. He had nine shots in less than 80 minutes and more than any of his team-mates and hauled his team to victory. 
Conte's decision to rest him against Swansea seems to have paid off, although Chelsea were poor to watch in his absence. It's hard to rest Hazard and for Chelsea to remain at their same level. 
Hazard had chances to get a hat-trick versus Newcastle but he came off for Willian in the 78th minute to an extra-special standing ovation. There's no doubt in anyone's mind that he is the Blues' most valuable player. 
Chelsea need to get Hazard on a new contract but they will probably need to make him the best-paid player in the Premier League. He's Chelsea's Galactico, superstar and he's worth every penny.