CONCACAF U20
Dynamic wingers help U.S. Under-20s trounce Haiti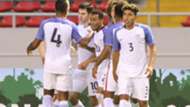 For a team with its World Cup qualifying hopes in jeopardy, the U.S. Under-20 national team didn't start out Tuesday's match against Haiti showing much urgency.
Fresh off a forgettable 1-0 loss to Panama on Saturday, the Americans knew that anything short of a victory against the Haitians would spell doom for them and head coach Tab Ramos.
So when Haiti drew first blood with an early goal to stun the U.S., it looked like we were about to see the latest in what has been an ongoing series of awful youth national team results in recent years. The Americans looked vulnerable for 27 minutes, but the efforts of Jonathan Lewis and Brooks Lennon helped fend off disaster.
Lewis drew a 28th-minute penalty kick that Lennon converted, and the pair of soon-to-be MLS newcomers proceeded to terrorize the Haitian defense en route to a resounding 4-1 victory. Lewis' shifty moves and quickness wreaked havoc on the left flank, while Lennon's smart and tireless runs on the right put him in position for two more goals to complete the hat trick and send the Americans to a win that should seal their place in the next round of CONCACAF Under-20 World Cup qualifying.
D.C. United signs Mullins to extension
There were several players who stepped up their play in the second half, but Lewis and Lennon were pivotal to the turnaround. Lewis kept steady pressure on the Haitian defense, with quick dribbles and dangerous passes. Lennon put himself in good spots for chances, not only on his two goals in the run of play, but also on other chances that came close. With the wingers applying pressure, central midfielders Eryk Williamson and Luca De La Torre had more room to operate, and they made the most of that space to spray passes and create chances.
Lewis continued his impressive rise in 2017. A late Generation Adidas signing ahead of the MLS draft, Lewis wowed at the combine, leading New York City FC to trade $250,000 in allocation money (a record price for a draft pick) to trade up and select him with the third overall pick. Lewis carried that momentum into U.S. U-20 camp, where he played his way onto the qualifying roster. On Tuesday, Lewis looked every bit like a player who will be tough for Ramos to put back on the bench after starting him in place of Real Salt Lake's Sebastian Saucedo.
De La Torre, who had a poor game against Panama and struggled in the first half against Haiti, showed his quality in the second half. The Fulham midfielder cut down on the turnovers, took his chance well on the second U.S. goal, and found a better connection with his teammates than he had earlier in the tournament. He did enough to hold onto the starting attacking midfield spot, but will need to be more consistent.
Ramos had to be thrilled to see Williamson play well because it bodes well for the U.S. team's chances of managing without talented New York Red Bulls midfielder Tyler Adams, who might miss the rest of the qualifying tournament with an ankle injury suffered against Panama. A D.C. United academy product and University of Maryland standout, Williamson has long been a Ramos favorite, and he rewarded that faith Tuesday. He should play a key role in the U.S. midfield for the rest of the tournament.
Sounders looking to start and stay strong
Defensively, the U.S. once again watched a goal come from a player being marked by Fulham academy product Marlon Fossey. As impressive as Fossey has been getting forward from his right back position, he has shown vulnerability defensively, which is something that could be a liability in the next qualifying round.
Ramos will also be hoping for more from lead striker Jeremy Ebobisse, who is still searching for his first goal of the tournament. He did have an assist on the third U.S. goal but he needed to do better on his best chance of the match, a late first-half look where he forced a left-footed shot wide when a right-footed shot was called for. The Portland Timbers rookie has done well to put himself in position for chances, which Ramos has to like seeing, but Ebobisse will need to start finishing those chances to ensure the U.S. books its place in the Under-20 World Cup.
The Americans now head into Friday's match against Saint Kitts and Nevis expected to win and secure a place into the second round of the tournament, which consists of a three-team group. The top two teams in each second-round group qualify for the World Cup. The Americans should cruise on Friday, but unless Haiti can upset Panama, which is unlikely, the U.S. will be placed in a group with tournament favorite Mexico and the winner of a group featuring Costa Rica and El Salvador.
Ramos and his team already knew about that potentially precarious road even before the Haiti match, but Tuesday's victory has to give them more confidence that they can handle that tough task.