Orlando Pirates
Dumisa Ngobe backs Orlando Pirates to beat Kaizer Chiefs in the Soweto Derby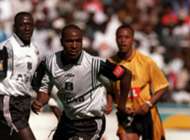 Ex- Orlando Pirates midfielder Dumisani Ngobe believes his former team will win the upcoming Soweto Derby against rivals Kaizer Chiefs on Saturday.
The highly anticipated Premier Soccer League (PSL) match which will be played at the FNB Stadium comes after the Buccaneers 1-0 win over Chippa United in the Telkom Knockout on Saturday night.
"I think it's very important to get a win before a Derby and the win over Chippa has helped Pirates especially coming after the Fifa break," Ngobe told Goal.
"I think they came to the match prepared, but one eye was on the Derby. The win will give them some momentum going to the next weekend, but they didn't play well against Chippa in my opinion," said Ngobe.
Furthermore, Ngobe told Goal that coach Milutin Sredojevic's men are inconsistent, but he backed them to do better at home against Amakhosi.
'Yes it was a great win in the sense that they needed motivation to face Chiefs and because Pirates have new players who want to do well on Saturday," he explained.
"I am happy because they did not lose against Chippa ahead of the Derby because that would put pressure on them and I also think they used the match to fine tune their plan because they came from a break," he continued.
"I think Chiefs are also playing well and we will see how they play today (against Black Leopards), but I can say it will be a great game of football between the two giants next Saturday," reacted the former Witbank Black Aces star.
"Just like Pirates, Chiefs will need a win before the Derby and I honestly think Pirates have an upper hand on this one come Saturday," predicted the former Bafana Bafana international.
Speaking of tactics, the retired midfielder believes both Giovanni Solinas and Milutin Sredojevic may look to utilise their pace to bag an early goal.
"I think both teams have similar qualities when it comes to playing the game tactically. They have an ability to play on high speed, lower the pace and that works for both sides in search of an early goal," he noted.
"On the other hand, the return of players such as (Vincent) Pule is a huge boost for Pirates, but the coach must be smart regarding how to use him in a Derby because such games can make or break you. He is still young and he will play his first one...but we will see how he uses him," he concluded.