African All Stars
Drogba reveals goalscoring advice he gave Salah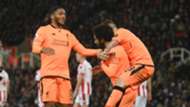 Didier Drogba said Liverpool's Mohamed Salah needed 'time and confidence' to turn into the prolific goalscorer that he has since become.
The pair were teammates at Chelsea, with Drogba at the peak of an illustrious, goal-laden career while the Egypt international was just finding his feet at the Stamford Bridge outfit - having moved from Basel as an exciting prospect in 2014.
In his two seasons at the London side, Salah struggled for playing time and netted only two goals in 19 appearances. But a move to Italy - initially on loan - saw his return and form improve.
The winger struck 43 times in 111 matches for Fiorentina and Roma.
Now a club record signing on his return to England, the 25-year-old has taken to Anfield firing on all cyclinders, with 19 goals in his first 24 matches. And Drogba has revealed the golden advice he handed the Pharoah.
"He's unpredictable he can dribble past you easily and he has got stronger and he can score goals," Drogba told Metro News.
'There was time when he was texting me: 'I don't score, I don't know why.' I said: 'It is just a matter of time and confidence.'
"When you have the confidence, everything can happen and you can see now that he is scoring goals.
"I saw how he improved through the years. He had to go to Italy to perform and then come back to England show that he is the player we always believed he was.
"He's becoming a boss and a leader – we've seen it in the national team and seen it at Liverpool," he added.
"I can tell by his celebrations that he knows what he's doing now, he's not going crazy but just sticking his tongue out to say, 'yeah it's me'."