David Beckham's career - Man Utd icon, Real Madrid Galactico, LA Galaxy star & PSG finale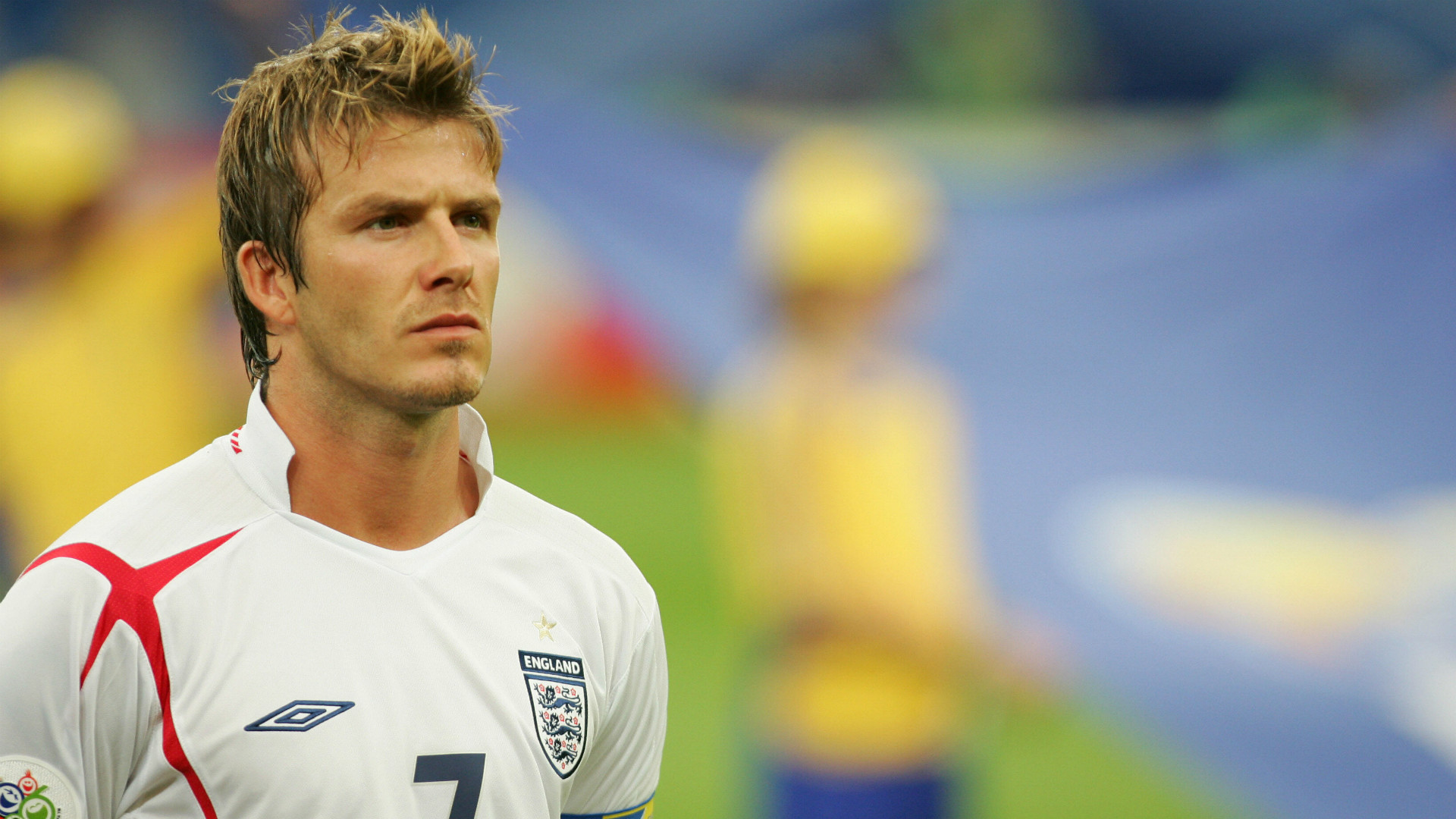 Getty Images
Even though he hung up his boots five years ago, David Beckham is still one of the most instantly recognisable faces in football.
The former England captain plied his tried in five different countries, two continents and won nearly everything there is to win in the game.
The first modern-day superstar of the game, he laid out the roadmap for iconic players such as Cristiano Ronaldo and is getting ready to get back involved in the game.
As Beckham prepares to sink his teeth back into the American game, Goal takes a look back at his eventful career.
---
Beckham's Manchester United years
---
Beckham began his career at Manchester United, where he graduated into the first team as one of the famous 'Class of '92' along with the likes of Nicky Butt, Paul Scholes, Gary Neville and Phil Neville.
He made his senior debut for the Red Devils on September 23, 1992 in a League Cup match against Brighton at the age of 17 and, after a brief loan spell at Preston North End, he gradually became a first-team regular at Old Trafford.
Beckham made a serious breakthrough at United in the 1995-96 season when he made 33 Premier League appearances, scoring seven goals, but the moment that he truly announced himself as a star of Alex Ferguson's team came on the opening day of the following season when he scored a spectacular half-way line goal in a 3-0 win over Wimbledon.
"My favourite goal has to be the one against Wimbledon, you know, everybody talks about it, and everybody talks about the history of it," Beckham once told Sky Sports.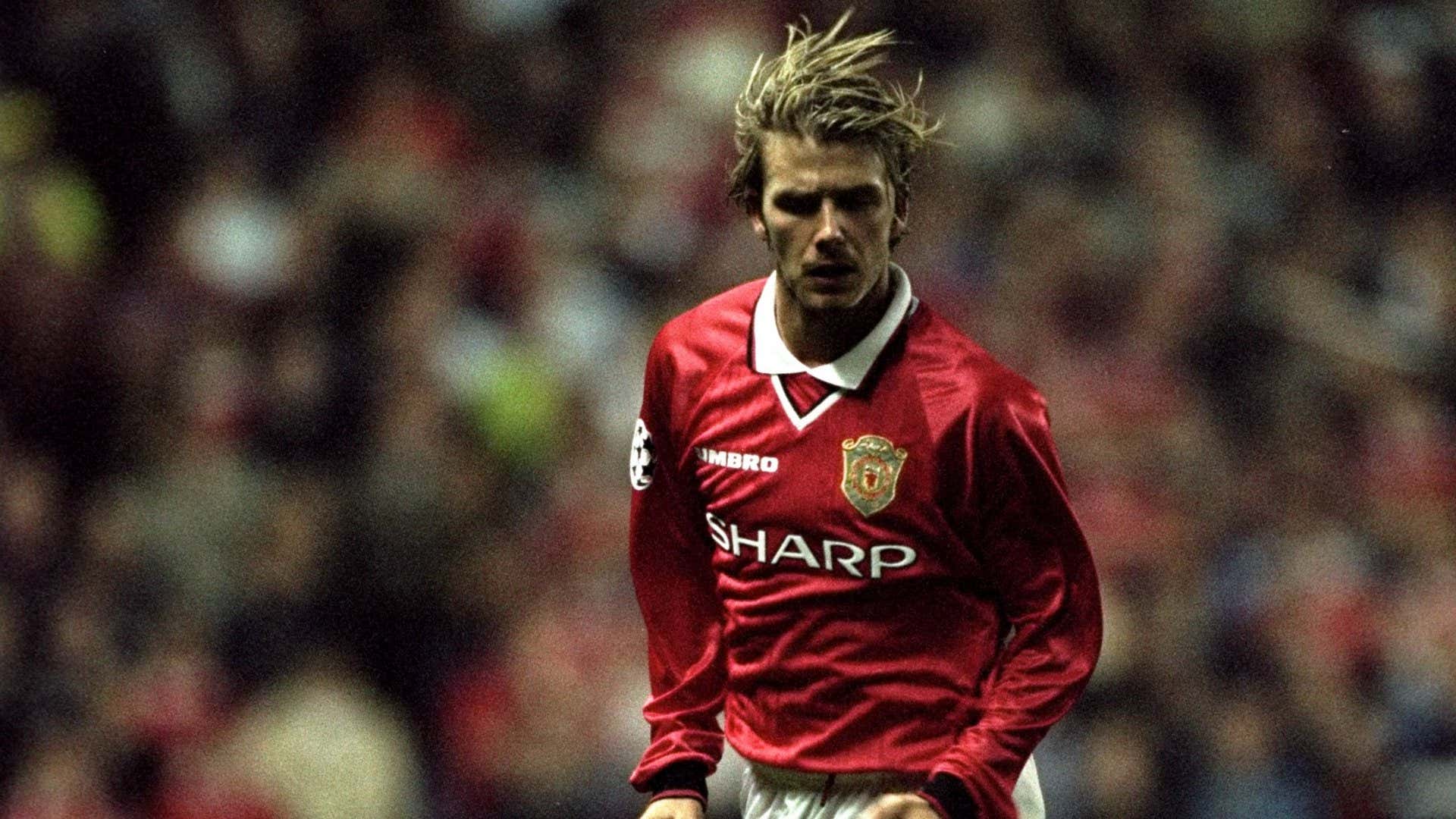 "I say how important it was for me personally in my career, but I was more happy about the fact that Eric Cantona came up to me afterwards and said: 'Good goal.' That was better than scoring the goal for me."
On that fateful day, the then-21-year-old was donning the no. 10 jersey that had just been vacated by Mark Hughes, but he would go on to claim the club's famous no. 7 jersey following the departure of Cantona in 1997. And he subsequently wrote his name into the history books, joining icons such as George Best and Bryan Robson.
Beckham spent a total of 11 seasons at Old Trafford, helping United to a Champions League title and treble in 1999. He won six Premier League titles, two FA Cups and an Intercontinental Cup with the club.
But his time there ended in acrimony as his relationship with Ferguson deteriorated, with an infamous dressing-room boot-kicking incident encapsulating the animosity felt between the pair.
---
Beckham the Real Madrid 'Galactico'
---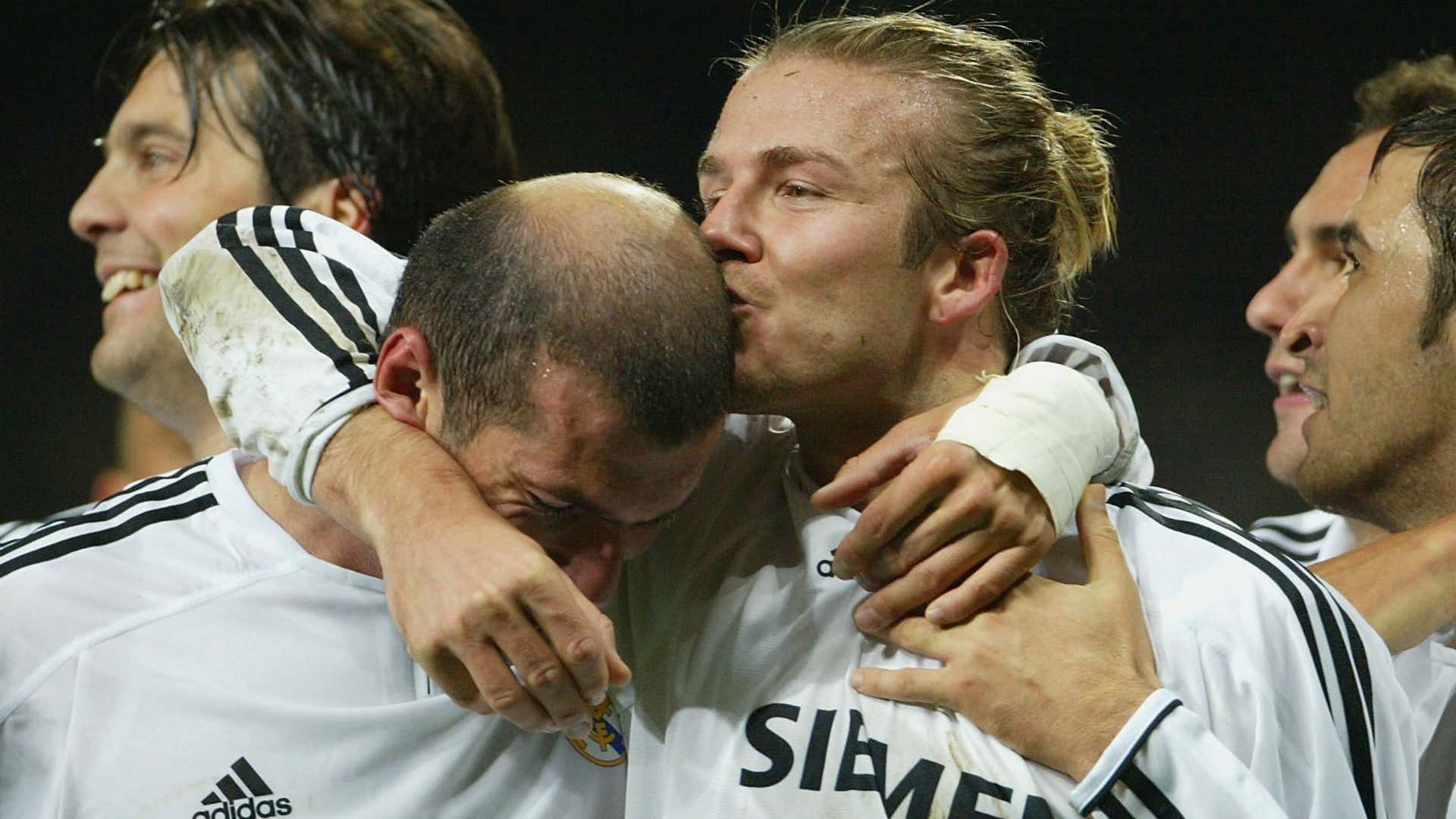 Beckham left Manchester United in the summer of 2003 in a €35 million move to La Liga giants Real Madrid. Then 27, the midfielder joined Florentino Perez's array of Galácticos, which included iconic footballers such as Zinedine Zidane, Ronaldo and Luis Figo.
Since Madrid hero Raul was already wearing the no. 7 jersey, the England international instead took the no. 23 - based on his admiration for basketball legend Michael Jordan - and settled straight into the team under the tenure of former Man United assistant manager Carlos Queiroz.
Beckham spent four seasons at the Santiago Bernabeu and became an integral member of the squad, winning the club's Player of the Year award in 2005.
However, it was a relatively barren period for the club, who were undergoing somewhat of a managerial crisis during that time. After the departure of Queiroz in May 2004, Madrid went through five different coaches during Beckham's time there.
He ultimately left the club at the end of his contract in 2007 with only two trophies - a Copa del Rey in 2003 and La Liga in 2007, his final season.
Prior to his departure from Los Blancos, Beckham became involved with Major League Soccer (MLS) and in January 2007 his move to the United States was announced as he prepared to join the LA Galaxy.
---
Move to MLS with LA Galaxy
---
Beckham joined the LA Galaxy as a designated player mid-way through the season and the move served as a major boost for MLS, particularly in terms of marketing the league on a global scale.
Indeed, the fact that Beckham was only 31 at the time of the move and by no means finished as a player also sent out positive signals to the football world that MLS was an attractive destination for the top players.
He was officially unveiled as a Galaxy player on July 13, 2007 and made his debut for the club a week later in a friendly match against Chelsea. His competitive debut came the following month as a substitute against D.C. United.
Beckham made 25 appearances and scored five goals in his first full MLS season in 2008 and remained at the club until the end of the 2012 MLS season. During his time in California, he won two MLS Cups (2011, 2012) and struck up successful partnerships with the likes of Landon Donovan and Robbie Keane.
Loans to AC Milan
In 2009, Beckham moved to Serie A giants AC Milan on loan in a move that was designed to keep his hopes of making the England squad for the 2010 World Cup alive. Then 33, he joined the Carlo Ancelotti-led Rossoneri in January until mid-July, at which point he returned to the LA Galaxy. At Milan, Beckham was part of a who's who of football stars, including Andrea Pirlo, Ronaldinho, Kaka and Paolo Maldini.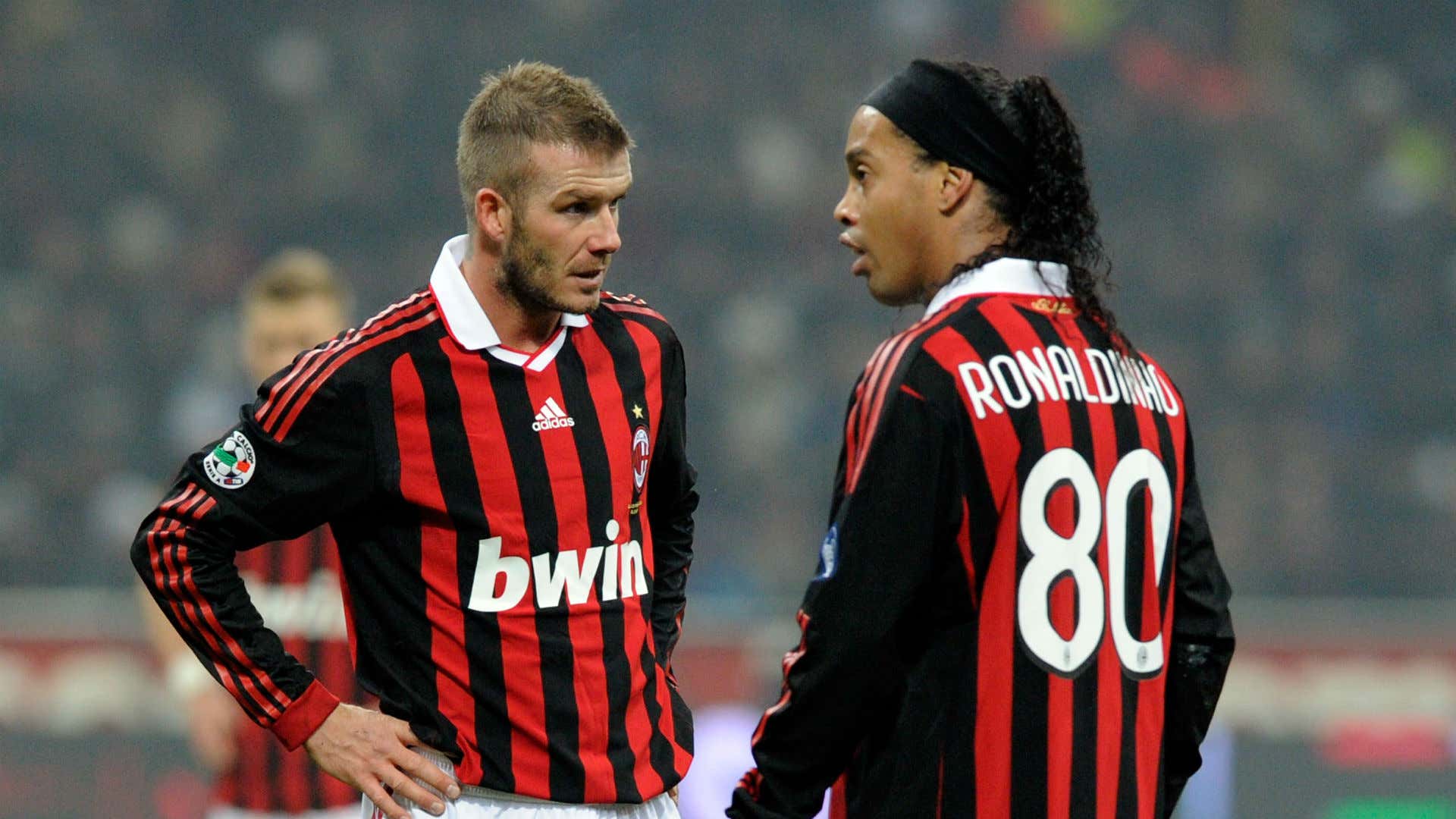 Many Galaxy fans were disappointed by Beckham's stint away from the club and he was actually booed upon his return, with some supporters holding up placards criticising his Italian sojourn. Nevertheless, Beckham helped the Galaxy to the MLS Cup final that season, but they were beaten by Real Salt Lake.
Despite the vitriol that greeted him on his return to California, he again moved to San Siro in January 2010, again on loan. However, his World Cup hopes were ultimately dashed by an Achilles injury sustained in a game against Chievo.
---
Beckham's career finale at PSG
---
After leaving the LA Galaxy, Beckham returned to Europe, signing a five-month contract with Paris Saint-Germain - linking up with Ancelotti again - in January 2013.
His entire salary - reported to be worth at least £1 million - from playing for PSG was donated to a local children's charity in Paris.
"It's something the guys [PSG management] do, but obviously it's a very good figure," Beckham said at the time. "That's one thing we're very excited about. To be able to give a huge sum to a children's charity in Paris is very special."
At PSG, the England icon played alongside Zlatan Ibrahimovic, Ezequiel Lavezzi and Javier Pastore, making a total of 14 appearances for the club, including 10 in Ligue 1 as they scooped the title. Aged 38, Beckham retired at PSG, playing his final match on May 18, 2013 - a 3-1 victory over Brest.
He was made captain for his final game and was visibly emotional as he was taken off, paying tribute to his team-mates for giving him a special send-off.
David Beckham's club career in numbers
| Years | Team | Appearances | Goals |
| --- | --- | --- | --- |
| 1992 - 2003 | Manchester United | 394 | 85 |
| 1994 - 1995 | Preston North End (loan) | 5 | 2 |
| 2003 - 2007 | Real Madrid | 155 | 20 |
| 2007 - 2012 | LA Galaxy | 118 | 20 |
| 2009 & 2010 | AC Milan (loan) | 33 | 2 |
| 2013 | PSG | 14 | 0 |
* All competitions
---
Beckham's England career
---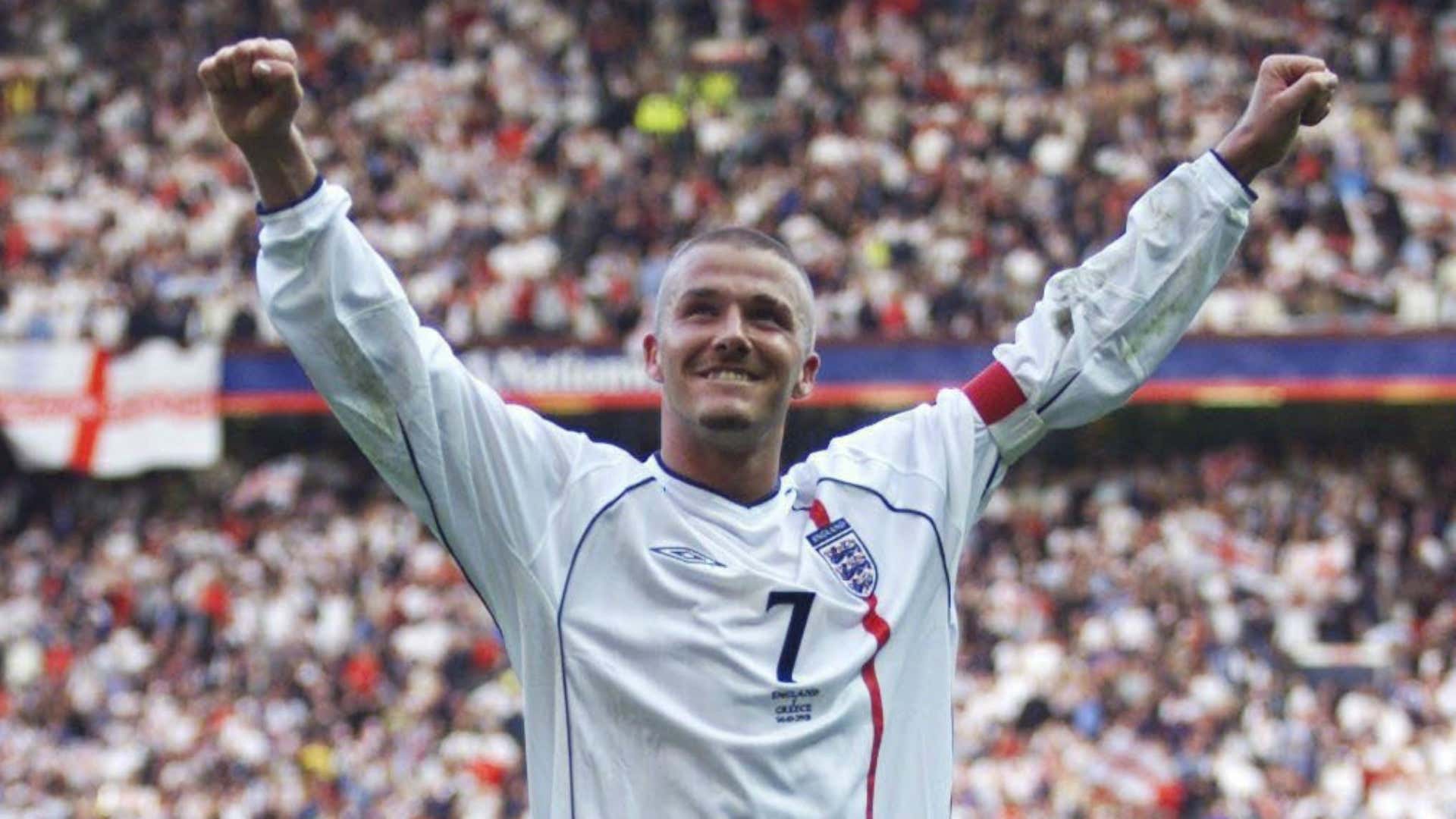 As well as playing for clubs in five different countries, winning titles in four of them, Beckham enjoyed a long and distinguished international career with England.
The midfielder made his debut for the Three Lions in 1996 in a World Cup qualification game against Moldova and went on to feature a total of 115 times during the course of his career, scoring 17 goals. He has made the third highest number of appearances for England, behind Wayne Rooney (119) and Peter Shilton (125).
He featured at three World Cups and two European Championships, but did not taste any success on the international stage. Indeed, arguably his lowest moment in football occurred while on international duty when he was sent off for kicking Diego Simeone in a last-16 defeat to Argentina in the 1998 World Cup.
He managed to recover from the vilification that followed his sending off - and England's eventual elimination - and was made team captain in 2000, retaining the armband for six years before stepping down from the role after the 2006 World Cup.
Beckham's last appearance for England came in October 2009 in a 3-0 win over Belarus and, while he did not officially retire from international duty, he was not selected again.
| Years | Team | Caps | Goals |
| --- | --- | --- | --- |
| 1996-2009 | England | 115 | 17 |
---
Business ventures and life after football
---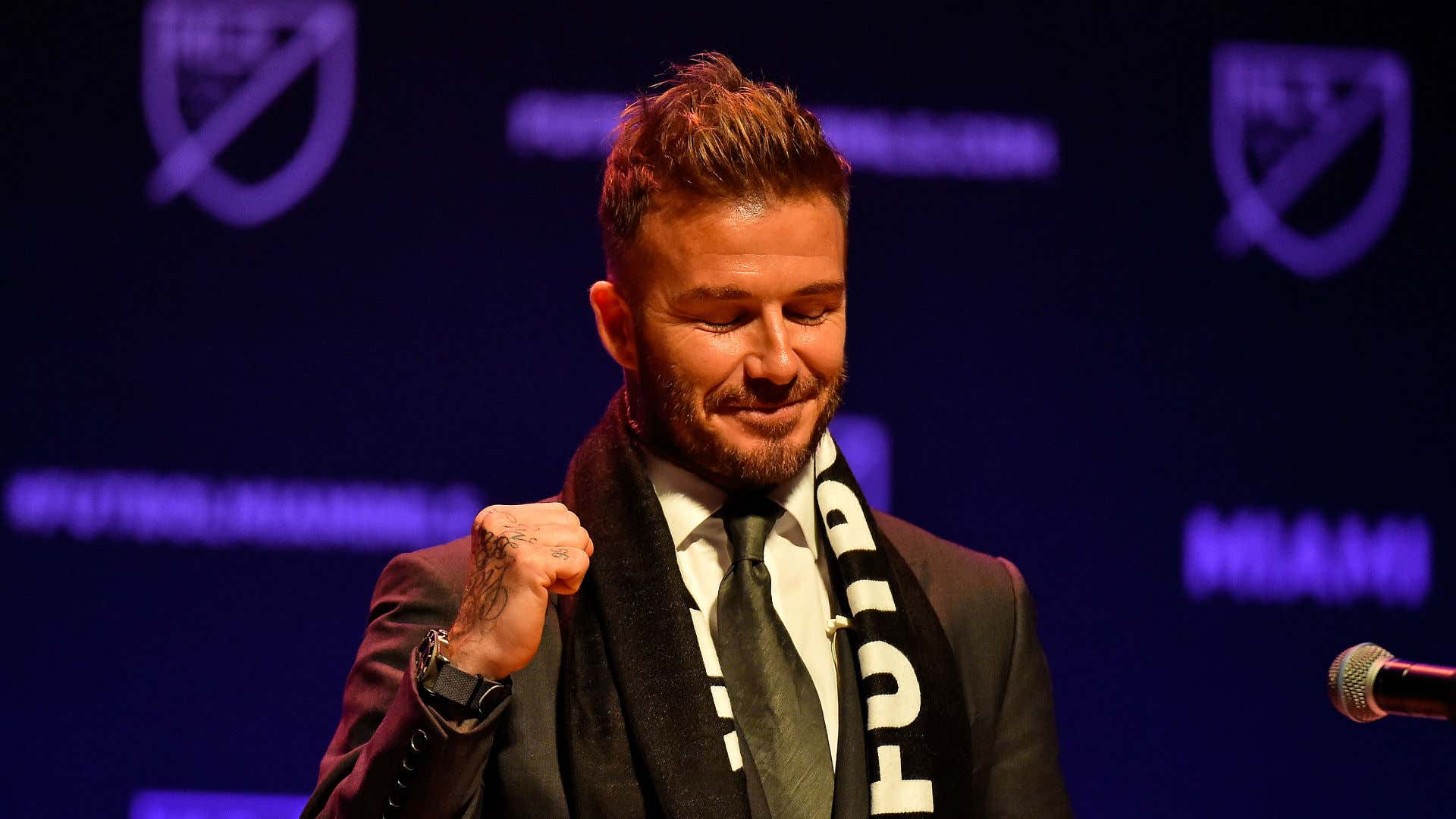 Beckham had cultivated a global brand during his playing days and by the time he retired in 2013, he had built an empire on his image by turning his hand to the fashion, entertainment and sports industries.
The former midfielder has a reported net worth of around £300 million based on his earnings from the game as well as lucrative endorsement deals with the likes of Adidas, H&M, Breitling and Haig Club.
Having eschewed the prosaic path followed by many professional footballers into coaching and management following the conclusion of his playing days, Beckham has instead opted to become the owner of a football club.
In January 2018, his long-awaited MLS venture in Miami was confirmed and he, along with a team of other businessmen, will attempt to construct a successful football club from the ground up.