Selangor
FAS' Mokhtar Ahmad will not defend his FAM and FAS posts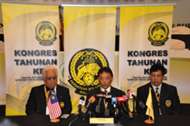 ---
BY         NIK AFIQ        Follow on Twitter
---
The Football Association of Malaysia (FAM) deputy president, Dato' Abdul Mokhtar Ahmad has decided not to contest in the upcoming FAM's 53rd Annual Congress Meeting next month.
According to Mokhtar, he has decided to withdraw from all positions that he currently holds at FAM, as well as at Football Association of Selangor (FAS).
Mokhtar told the press that it is time to for new people to come in and lead the association, and his withdrawal is done in the best interest of FAM.
"I think it is time for me to let go (of his positions). I feel that this is the time for new blood, young, full with energy with the right kind of commitment and the right kind of criteria to be in the associations. So I have refrained from seeking reelection. This is in the best interest of the FAM."
"I hope that the new people can make and bring something different here at FAM, especially with a new president that may have better vision."
"I also won't be in FAS anymore, I think it's enough football for me. We don't know what's going to happen in the future but for now, we are embarking on a new journey."
When asked about who he thinks would be the new president of the FAM, Mokhtar seems to be in favour of JDT owner Tunku Ismail Sultan Ibrahim (TMJ) .
"For me, TMJ has already proven himself by bringing success and achievements at JDT. We must also accept the fact the he has also built state-of-the-art infrastructures and other states are not at that level yet."
"To grow more, we cannot just have one state moving into that level. If TMJ wants to prove that he can do it, I think it is time for him to take the nation's football to a different level."
"We have to go back to the development at the grass root level. The development at all states must be at similar level with each other. We must have one proper template and one proper policy for everyone."
Other than the deputy president in FAM, Mokhtar is also currently the chairman of the Technical and Youth Development Football Committee, and the the deputy chairman of the Finance and Management Committee at FAM.
FAS is set to hold its election on March 23, after former president Dato' Seri Azmin Ali stepped down just before the 2017 season kicked off.